New Microchip Keeps Young Grandmother with Advanced Heart Failure Active
Julie Bailey a 54 year young grandmother enjoys spending time with her grandson, but just a few months ago that precious quality time was in jeopardy when she was hospitalized again for her advanced heart failure.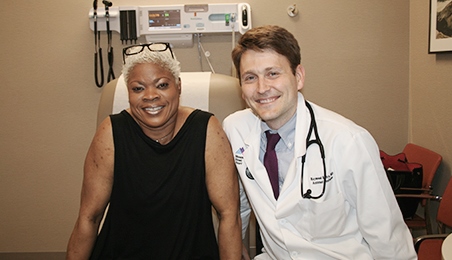 At age 29, Julie was first diagnosed with heart failure. After having her daughter, she began to put on excess weight that she just could not lose. Shortness of breath and extreme weakness soon followed. At one point, Julie had trouble sleeping unable to lay flat, and would have to sit up to get some comfortable rest.
The tipping point was when she became so fatigued that her arms were too weak to support the weight of her just two-month-old child. Julie knew that she could not put off visiting medical professionals any longer. Doctors diagnosed her with heart failure, which is a chronic and progressive disease where the heart is unable to deliver enough blood to meet the demands of the body. The symptoms of her breathlessness and tiredness were caused by accumulation of fluid in the lungs, which can increase if not closely monitored and treated.

For the past 25 years, Julie has lived with heart failure, knowing that at any point it could flare up and cause debilitating symptoms. In fact, Julie has been hospitalized twice in the past two years with worsening breathlessness and fluid retention. In March of 2015, Julie noticed she again was unable to walk with worsening fluid accumulation and knew she had to go to the hospital again.
To help Julie avoid the hospital and continue living her life, Raymond Bietry, MD, her cardiologist told her he may just have a solution. Dr. Bietry determined that Julie would be The Mount Sinai Hospital's first patient to receive the novel CardioMEMS™ heart sensor monitor.
The sensor is a tiny, battery-less, dime-sized device that is placed directly inside the heart through a minimally invasive procedure to monitor the heart's pulmonary artery. The device monitors for increases in pulmonary artery pressures, which is an early sign of worsening heart failure that can be detected before symptoms arise. Patients transmit daily pressure readings to their medical team who can then provide proactive, real-time, and individualized feedback prior to the development of worsening symptoms or the need for hospitalization.
The device now allows Julie more freedom than ever before, and gives her a peace of mind knowing she is being closely observed by her medical team at Mount Sinai offering a greater level of communication and personalized care. My doctors are now able to monitor me worldwide, wherever I am," says Julie.
Julie fondly recalls the day after her implant procedure, when she had a Greek Salad with some salty olives and feta cheese. Later that day, her doctor phoned her to ask what she had eaten, knowing via her new sensor that something caused her pressure readings to go up.
Julie is relieved and glad that her heart function is being closely monitored saying, I feel safer and I trust my doctors. Ultimately I have faith in my medical team and this is going to help protect me."
Now Julie can go back to her life as normal, the only changes being a healthier diet and lack of tobacco, with significant peace of mind.
When asked what she is most looking forward to, Julie responded, More grandchildren and living the best life that I can. I'm happy. I'm having a moment of success."
Learn more about the heart monitoring technology, here.