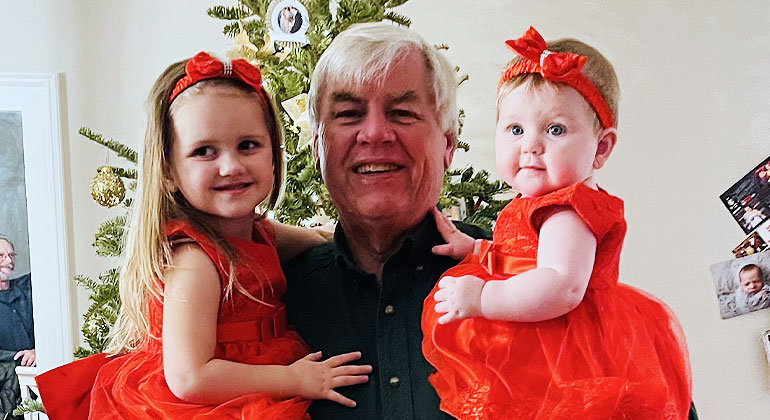 Innovative Surgery Helps Patient with Severe Coronary Artery Disease Return to a Full Life
Robert Kehoe, 67, started having chest pains in 2018. Even the smallest amount of exercise, like walking across a room to open a door, gave him severe pain. Much to his frustration and disappointment, he was no longer able to take his two-year-old granddaughter for walks.
Robert went to see his local cardiologist, Michael Robbins, MD, at Mount Sinai Doctors—Forest Hills, who diagnosed coronary artery disease. Dr. Robbins referred him to Samin K. Sharma, MD, Director of Interventional Cardiology for the Mount Sinai Heath System and a renowned expert in interventional cardiology.
Dr. Sharma carried out an angioplasty with stent placement to open up the blockages in the left anterior descending artery (LAD). The LAD is the most important of the three arteries of the heart and carries around 50 percent of the blood supply to the heart. When the LAD is blocked, it can cause intense pain (angina) and lead to a severe heart attack.
Over the next 18 months, Robert's chest pain returned, a sign that the artery was narrowing again (restenosis). To avoid further blockages, he returned to the hospital repeatedly to have additional stents inserted. "I went to see Dr. Robbins again with more chest pain," Robert says. "I told him I wanted to see if bypass surgery was an option."
Dr. Robbins called Dr. Sharma to get his opinion. Dr. Sharma referred Robert to John Puskas, MD, Chair of Cardiovascular Surgery at Mount Sinai Morningside, Mount Sinai West, and Mount Sinai Beth Israel, and Director of Surgical Coronary Revascularization for the Mount Sinai Health System. Dr. Puskas is a world-renowned surgeon who specializes in innovative coronary surgery techniques, including removing stents in order to perform bypass procedures.
Robert saw Dr. Puskas in January 2020. The surgeon was confident he could perform a bypass surgery, but said it would be a complicated procedure. A heart catheterization test showed that Robert would need the stents removed (called a stentectomy/endarterectomy) and a triple bypass procedure. "He told me the surgery was going to be extensive, as he had to remove my stents and then attach the grafts for the bypass surgery. There really were no other options." Robert says. "But he made it sound easy and made me feel comfortable that I was in good hands."
Robert says that although he was nervous before the procedure, both Dr. Puskas and his staff did an excellent job at reassuring him. "I was told there were not many people who have had this type of surgery. But when I was admitted, Dr. Puskas and his staff made me feel like I was a family member and were great in keeping me calm and informed about what was going to happen."
The surgery took place in February 2020 at Mount Sinai Morningside and was a complete success. "Dr. Puskas and his intensive care team treated me with such care. They were constantly by my side to make sure my recovery was going well. They helped me to stay positive. I loved them! Not only did they treat me great, but they also supported my family."
Heart catheterization tests after six months and one year showed that the surgery had successfully repaired his LAD artery. Robert's arteries had no new blockages. Two years later, Robert was still free from the relentless angina pain that he had prior to surgery. He now has two granddaughters, and is grateful to have plenty of time to share with them, and to take them both out for walks.
"There is not a finer hospital that I trust," Robert says. "From the first time I met Dr. Puskas, the care given to myself and my family has been absolutely fantastic. I owe my life to him, and in my opinion he is the finest surgeon."