Fibromuscular Dysplasia: A Rare Condition Caught in Time
Diagnosed with fibromuscular dysplasia and atherosclerosis, Karen was a walking time bomb. Could angioplasty save Karen's life?
During her pregnancy, Karen Good, 41, began showing several unusual symptoms. Her blood pressure was intermittently high, and her fingers and legs swelled.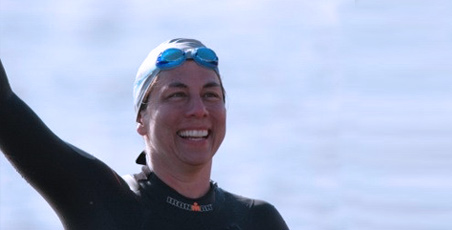 "My obstetrician thought that because I had gained so much weight on my small frame, the baby was pressing on my right kidney artery," she recalls.
Lying on her left side seemed to help, but when her blood pressure skyrocketed during her last trimester, her doctor worried she might have preeclampsia, a life-threatening complication of pregnancy characterized by high blood pressure (hypertension) and excessive protein in the urine. Karen was confined to bed rest in the hospital and closely monitored. Her obstetrician delivered her baby early.
Despite the premature delivery, Karen's blood pressure remained high. Although Karen was told that high blood pressure wasn't unusual in young people enjoying a healthy lifestyle, as she was, Karen was perplexed. She was a long-distance open-water swimmer, a long-distance cyclist and a marathon runner.
"The doctors said that some people just get essential hypertension after pregnancy with no specific medical cause," Karen says. Diagnosis Yields Surprises
Karen was determined to get to the root of her medical problem. An ultrasound revealed atherosclerosis, or a narrowing of the arteries supplying blood to her kidneys. The condition, typically caused by a buildup of plaque, is a major risk factor for heart attack and stroke — an unusual finding for a fit, young woman.
Karen was also diagnosed with fibromuscular dysplasia, a rare condition primarily affecting women ages 20 to 50. The disease causes reduced blood flow through the kidneys, neck, and abdomen and can cause high blood pressure, stroke, heart attack, and aneurysms.
Research Leads Karen to Mount Sinai Heart
During an online search, Karen came across the name of an internationally recognized expert in fibromuscular dysplasia: Jeffrey W. Olin, DO, Professor of Cardiology and Director of Vascular Medicine and the Vascular Diagnostic Laboratory at Mount Sinai Heart. Karen contacted Dr. Olin and sent him her records. After the doctor's prompt and helpful response, Karen made her way from Maryland to Mount Sinai Heart in New York.
"I could tell immediately that I was dealing with pros," Karen says of her initial contact with the Mount Sinai Heart team. "These technicians were experts in fibromuscular dysplasia."
In addition to a kidney ultrasound, Karen had a magnetic resonance imaging (MRI) test and a battery of blood tests all in the same day — testing that might have taken weeks at home. Karen was pleased with the personal attention she received from Dr. Olin. When she started to sit across from him at his desk, he moved her chair to position it beside his.
"I'll never forget that,' Karen says. "I was expecting to look at an upside-down piece of paper."
Dr. Olin confirmed that Karen had fibromuscular dysplasia. Her kidneys were in fact in danger. To save them, the arteries leading to her kidneys required angioplasty, a catheterization procedure used to widen narrowed blood vessels. Dr. Olin recommended Robert A. Lookstein, MD, Associate Professor of Radiology and Surgery Chief, Division of Interventional Radiology, an expert in working with arteries affected by fibromuscular dysplasia, to perform the angioplasty.
Dr. Olin replaced Karen's three hypertension medications with a single drug combining all three. Within a month, her blood pressure had returned to normal. A few weeks later, she had her angioplasty. And the morning after, she was on her way home.
Back in Maryland, Karen Leads a Normal Life
Karen knows there's no cure for fibromuscular dysplasia, but, as Dr. Olin told her, the condition itself isn't dangerous. Its complications are. Without his help, Karen was a walking time bomb, at risk for life-threatening stroke and chronic heart disease.
Karen is now following a heart-healthy diet. She is also taking the correct blood pressure medication, drugs to manage her cholesterol, and aspirin therapy, all of which combine to manage her condition properly.
Dr. Olin coordinates all of Karen's care, personally speaking to her doctors in Maryland to keep them up to date on her health. With his encouragement, Karen is back to her active lifestyle and is planning to compete in an Ironman endurance race.
"I feel more in control of my health," Karen says.