Cyclist Overcomes Cardiac Arrest Thanks to Good Samaritans and Mount Sinai
When Jim Hamilton collapsed during a New York City bike race, fellow cyclists administered CPR. Mount Sinai Heart took it from there.
Jim Hamilton and his wife, Melinda, were on the first leg of New York City's 42-mile Five Borough Bike Tour. The weather was right for a long-distance ride, and Jim felt his life couldn't be better.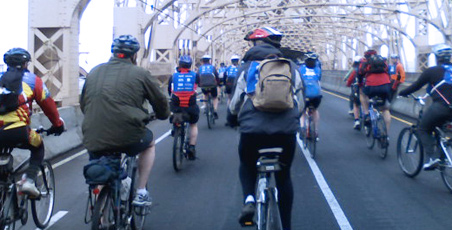 But at mile 14, as he crossed the 59th Street Bridge to Queens, Jim had a seizure. He fell off his bike and landed hard on the road. An emergency-room nurse from New Hampshire, cycling behind him, stopped to help. Seconds later, another cyclist with training joined the group, as did an intensive care unit nurse.
Within seconds, the group began a well-choreographed series of chest compressions, mouth-to-mouth breathing, and monitoring, while another cyclist called 911.
Series of Interventions Saves Jim's Life
An ambulance arrived shortly, taking Jim to the closest hospital. Emergency room doctors stabilized him and gave Melinda the frightening news: Jim collapsed from cardiac arrest. Emergency room physicians needed to transport Jim to Mount Sinai Heart as quickly as possible.
At Mount Sinai, Michael Kim, MD, Assistant Professor of Cardiology and Director of the Coronary Care Unit, and a team of cardiac care specialists were waiting in the cardiac catheterization lab to perform an angiogram — a catheterization procedure used to visualize Jim's coronary arteries.
The angiogram revealed that Jim had blockages in four arteries — two at 90 percent and two at 70 percent. Melinda was shocked that her husband, who biked 50 miles a week, enjoyed downhill skiing and rode horseback, could do all that without showing any signs or symptoms of heart disease.
But the situation was hopeful. Jim would need stents — mesh devices that shore up and open narrowed blood vessels. And in less than an hour, Jim was resting comfortably in Mount Sinai Heart's Cardiac Care Unit. Melinda was reassured by the calm, confident demeanor of the medical staff.
"Not only were the doctors competent," she says, "but they were all so kind and passionate about what they do."
Quick Recovery Has Jim Out and About
Four days after his collapse, Jim went home. The combination of the ad hoc emergency treatment on the bridge, the first hospital's urgent care, and the expertise at Mount Sinai Heart had saved his life.
Five weeks after his heart attack, Jim donned his cycling shoes once more and mounted his bike. "I feel exactly the same as before the incident," he says. "The doctors gave me no restrictions."
Jim has no plans to be a benchwarmer and laughs when describing his medically challenged cycling friends. "One has a pacemaker and another has an artificial knee," he says. "And now with my stents, I'm in good company. We're a regular Tour-de-Parts."