At the Heart of a Long Motorcycle Ride: Organ Donation Saved My Life
Since 1999, Dave Kaufman, 61 of Brooklyn, has survived an unbelievable number of health challenges.
Dave Kaufman has had multiple heart attacks since age 45; was diagnosed and cured of a rare form of leukemia thought to be linked to September 11; and in 2003 he underwent quadruple coronary artery bypass surgery.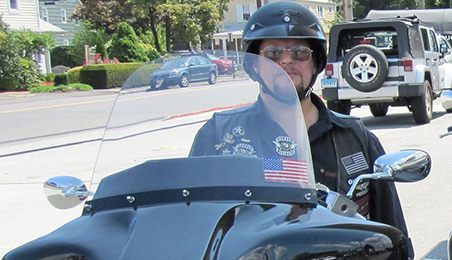 Dave thought the worst of his health scares were behind him, but in July of 2008 he experienced a massive heart attack in Vermont during his long-distance motorcycle ride home from Americade, in Lake George, NY.
As an avid motorcyclist, and founding member of the Forged Alliance Riding Club, Dave has been through his share of falls and crashes but nothing compared to this accident.
"I never fully recovered after that heart attack," Dave said. "After the previous attacks, doctors would implant a stent and within the appropriate time I was back to normal. This time was different. My heart was only operating at 10 percent."
Dave stayed in a Vermont hospital for a month, returning home in a very weak state. He followed up with a local cardiologist and was diagnosed with congestive heart failure. He needed a new heart. It was a series of appointments with multiple doctors filled with unanswered questions and misguided information that led Dave to Sean Pinney, MD, Director of Advanced Heart Failure and Transplantation at The Mount Sinai Hospital.
"He was the first doctor to tell me that without a heart transplant surgery I would die," Dave said. "I was put on the transplant list immediately."
Dave was admitted to The Mount Sinai Hospital in January 2014, and come July he received the heart transplant he needed by cardiothoracic surgeon Anelechi Anyanwu, MD, and also a kidney transplant.
After his surgery, Dave pondered the significance of what he had just gone through. He had lived through more than most people could ever imagine, and now had the heart of a generous stranger. He wanted to do something to give back.
Motorcyclists are at higher risk than all other travelers to be receiving life-threatening injuries.
New York has one of the lowest percentages in the United States for residents signed up to be organ donors, and the highest percentage of residents on the transplant list.
Today, Dave and his riding club have partnered with LiveOnNY to help raise funds for the organization, while educating motorcyclists on the critical importance of being an organ donor.
In October 2015, the group will host a large, police-escorted motorcycle ride called Concrete Canyon Run, through New York City to raise awareness of the importance of organ donation.
And at the heart of this event for Dave and other organ donor recipients is the long ride to honor the generous organ donors and the gifts of life that they each shared. To learn more about Dave's upcoming ride visit his website, here.