An Irregular Heartbeat Stabilized at Mount Sinai
When Lucretia Jones, a mother of two holding a full-time job, felt her heart race out of control, Mount Sinai was there to stabilize her heartbeat.
As Lucretia Jones washed dishes one late Christmas eve, a frightening sensation took her by surprise. "My heart just went crazy. It was racing and irregular," she recalls. The New York City epidemiologist, then 50, was experiencing her first attack of arrhythmia.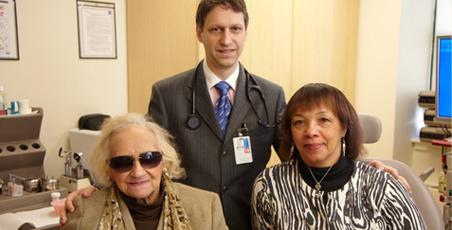 Lucretia led a busy life, with no time for health crises. A former emergency medical technician, she had just earned her master's degree in public health and was leading a Department of Health unit on communicable diseases. At the same time she was raising two children, caring for her elderly mother, and volunteering for a grassroots organization she had helped found in her South Bronx community.
Lucretia's partner, Jesse, was with her when her heart began to race. An emergency medical technician himself, he drove her to Mount Sinai Heart, where Lucretia was diagnosed with atrial fibrillation.
Atrial Fibrillation: A Treatable Condition
In atrial fibrillation, an irregular heartbeat prevents blood from moving from the atrium into the ventricle. The condition can revert to normal in minutes or hours, but sometimes it persists. In each case, the blood that pools in the atrium is at risk for clotting. The clots can break off and cause a stroke.
The Mount Sinai Heart Telemetry Unit admitted Lucretia for monitoring. There, she and her family met Bruce Darrow, MD, PhD, Director of the Telemetry Unit and Assistant Professor of Cardiology. Dr. Darrow prescribed medication that stabilized Lucretia's heartbeat. Lucretia was released within just a few days.
Three times over the next few months, though, Lucretia's arrhythmia returned. After the third time, Dr. Darrow referred Lucretia to Avi Fischer, MD, Director of Pacemaker and Defibrillator Therapy and Assistant Professor of Cardiology. Although the cardiologists discussed performing a minimally invasive catheter ablation procedure, a last-minute adjustment to Lucretia's medication stabilized her heartbeat.
Personable Health Care
About a year after Lucretia experienced her first arrhythmia, she brought her mother to Mount Sinai for medical treatment and ran into Dr. Darrow.
"He immediately recognized me and said, 'What are you doing here?'" Lucretia says. "Some places you can walk past your doctor and they might not know you. Dr. Darrow actually comes in to sit down and talk. He makes me feel like I am his only patient."
Her health back on track, Lucretia has returned to her usual hectic schedule. "Who would have thought that I would be going for my PhD at my age?" she says. "There is still so much to do."