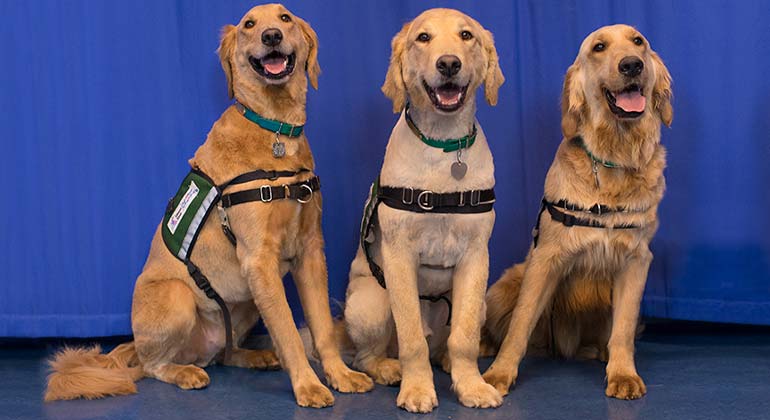 Paws & Play is the facility dog program at Mount Sinai Kravis Children's Hospital. Professor, Amos and Moby, our beloved facility dogs, are full-time "employees" in the Child Life and Creative Arts Therapy Department. This program pairs Animal-Assisted Therapy (AAT) with the skills of Certified Child Life Specialists and Art Therapists to provide therapeutic interventions for patients, families, staff, faculty and trainees. Research has shown that Animal-Assisted Therapy and facility dogs increase positive behaviors, reduce experiences of pain, lower blood pressure, and decrease experiences of depression and fatigue. Just as important, AAT has also proven to reduce patient anxiety during medical appointments, reduce feelings of isolation and provide opportunities for increased social support. This wonderful program is supported by the generosity of The Mount Sinai Auxiliary Board, and The Gertrude and Louis Feil Charitable Trust.
Frequently Asked Questions
Here are some answers to questions we hear often about Paws & Play.
What is a facility dog?
A facility dog is an animal specially trained to work in the health care environment. Professor, Amos, and Moby were trained as service dogs at Canine Assistants in Milton, Georgia, where they were exposed to a variety of environments and experiences to prepare them to work with the children, families, staff, faculty and trainees at our hospital.
How is this program special?
Certified child life specialists incorporate Professor and Amos into therapeutic treatment plans using AAT to address the clinical needs of our patients. AAT is a goal-directed intervention that incorporates the animal into the treatment process.
Moby, our newest facility dog, provides staff support through "Paws & Play: Care for Clinical Teams." This innovative program aims to provide well-being and resilience opportunities for staff, faculty, and trainees in the hospital's adult areas. Our mission is dedicated to reducing burnout, stress and depression in the workplace and to positively impact patient care.
Where do Professor and Amos work?
Professor spends his time in the outpatient pediatric hematology/oncology clinic with his primary handler, Ali Spike, MS, CCLS. Professor also sees patients who are referred to him in outpatient clinics and the Pediatric Emergency Department. Additionally, Professor works with his secondary handler, Marianne Porzelt, MS, CCLS, on the pediatric intensive care unit and the pediatric cardiac intensive care unit.
Amos is based in the inpatient pediatric units with his handler Tori Zucker, CCLS. Amos is also a part of our Backstage Pass in the KidZone TV studio, and joins weekly parent coffee hours in the Family Corner with his secondary handler, Mathea Jacobs.
Professor and Amos are full-time facility dogs who each spend 40 hours per week at the hospital, based on their handler's schedule.
Where does Moby work?
Moby dedicates his time to supporting staff, faculty and trainees in Mount Sinai Hospital. Moby and his primary handler, Jaclyn Damiano, MPS, ATR-BC, LCAT, serve the Cardiac Intensive Care Units, Surgical Intensive Care Unit, Medical Intensive Care Unit, Ruttenberg Treatment Center, Emergency Department, NICU and Mount Sinai Queens clinical teams.
Can families request to meet Professor and Amos?
Yes. If your child is having a difficult time coping with the hospital environment, is experiencing significant pain or needs more motivation to achieve clinical goals, you can contact your child life specialist to request a session. Professor and Amos also appear on a weekly KidZone TV show, so your child can tune in and see them on TV.
How did Professor, Amos and Moby get their names? What is their breed?
Professor is named after Professor Bunsen Honeydew from the Muppets. Amos is named after the Famous Amos Cookie. Moby is named after the great American novel, Moby Dick. They are all golden doodles.
Where do Professor, Amos and Moby live?
Professor lives with his primary handler, Ali Spike. Professor enjoys long walks in the park, playing with his favorite toys and getting cozy on the couch. Amos lives with KidZone TV Manager, Mathea Jacobs. Amos enjoys walks on the beach and in the park, and playing with his best friends Moby and Professor. Moby lives with his primary handler, Jaclyn Damiano. Moby loves going on hikes, playing fetch with sticks and peanut butter!
How do I get more information about the Paws & Play Program?
For more information about Professor, Amos, Moby and Paws & Play programming, please contact Morgan Stojanowski at morgan.stojanowski@mountsinai.org or 212-241-2939.
Follow Professor, Amos and Moby on Instagram for the latest updates @MountSinai_PawsandPlay.
Read the latest issue of the Paws & Play newsletter, The Doggy Digest