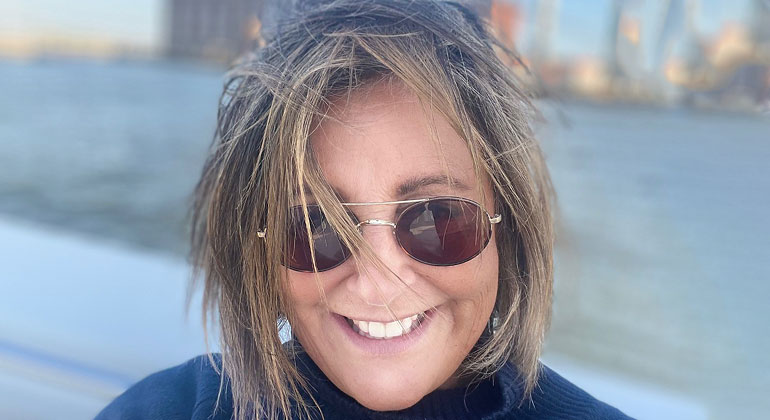 Spinning Toward New Treatments for Triple Negative Breast Cancer
Around Halloween of 2018, mother of three, Ilene Osherow felt a lump in her breast. She knew immediately that something was wrong and contacted the Dubin Breast Center of The Tisch Cancer at Mount Sinai to have the lump checked out.
By mid-November, Ilene was under the care of Elisa R. Port, MD, FACS, Chief of Breast Surgery and Co-Director of the Dubin Breast Center, and Amy Tiersten, MD, Professor of Medicine (Hematology and Medical Oncology) at the Icahn School of Medicine at Mount Sinai. Tests returned a diagnosis of triple negative breast cancer (TNBC), a very aggressive and hard-to-treat disease. Triple negative breast cancer does not have the receptors that some breast cancers have—and that doctors generally target to destroy the cancer cells. As a result, there are few effective treatment options. Unfortunately for Ilene, there was more bad news to come. A scan also revealed an abnormality on her liver, and the subsequent biopsy confirmed a diagnosis of stage four cancer.
Dr. Port and Dr. Tiersten immediately decided on a treatment plan involving a combination of immunotherapy and chemotherapy.
"Immunotherapy is a form of therapy that unleashes a patient's own immune system to fight the cancer cells, and TNBC is the only subtype of breast cancer where immunotherapy works," Dr. Tiersten says. "Previous studies had shown that in a subset of TNBC patients with stage IV disease there was a benefit of adding immunotherapy to standard chemotherapy if the patient's cancer cells express a certain receptor called PDL-1. Ilene had that receptor on her liver biopsy, so the first therapy she received was a combination of chemotherapy and immunotherapy."
By December 2020, the disease had started to spread again. "I had weekly chemotherapy and immunotherapy, and then, it moved to my lungs, which meant immunotherapy was not working" Ilene told Spectrum News NY1 in a report on her health journey.
In January 2021, Dr. Tiersten enrolled Ilene in a clinical trial at the Dubin Breast Center at The Mount Sinai Hospital.
"Once that treatment stopped working, she went on a clinical trial that is an investigator-initiated trial at Mount Sinai," says Dr. Tiersten, who is the principal investigator of this study. "The study is comparing single-agent chemotherapy with a drug called carboplatin vs. the combination of carboplatin and everolimus, which is an oral biologic or targeted therapy. The hypothesis is that perhaps adding the targeted agent makes the chemo work better."
Ilene has had a very positive response to the drug combination and as of spring 2023, there are no signs of the cancer metastasizing. "She's my North, South, East, and West star," Ilene says of Dr. Tiersten.
"She has maintained a complete response to this therapy since that time. Her scans do not show any evidence of active disease—she gets scans to assess response every nine weeks. This is truly remarkable because the average time a given regimen typically works for metastatic TNBC is somewhere between two and four months."
"I have drip chemotherapy every three weeks, and I take a chemo pill," Ilene says. "They're two different kinds of chemotherapy."
Chemotherapy can be very hard on the body, but Ilene pushes forward. Exercise helps. "I do Pilates, and I spin when I can," Ilene says referring to the rigorous bike workout. "I do a lot of therapy, and I do a lot of exercise, and I think those things really help me stay focused."
Exercise can go a long way toward aiding in breast cancer treatment. "It seems very unfair to tell someone who's wiped out from chemotherapy to get up, move around, go out for a jog, go on a spin bike, but it really can improve quality of life and make you feel very alive," Dr. Port explains.
Ilene wants to spread the message about the importance of exercise in treating disease and improving quality of life. She has hosted a spinning fundraiser to help raise awareness—and research money—for triple negative breast cancer, which Dr. Port also attended. The fundraiser has brought in nearly $200,000 for research into targeted treatments
"There are other targets that we're trying to find—actionable targets—and that's a huge area of research right now," Dr. Port says.
"Hopefully, I get to experience the cure," Ilene says. "But if I don't, I helped." In the meanwhile, Ilene is taking it day by day, doing her chemotherapy and exercise. "I want to live a long time. I turned 59 on April 2. I never thought I would see 60. Now I have hope."