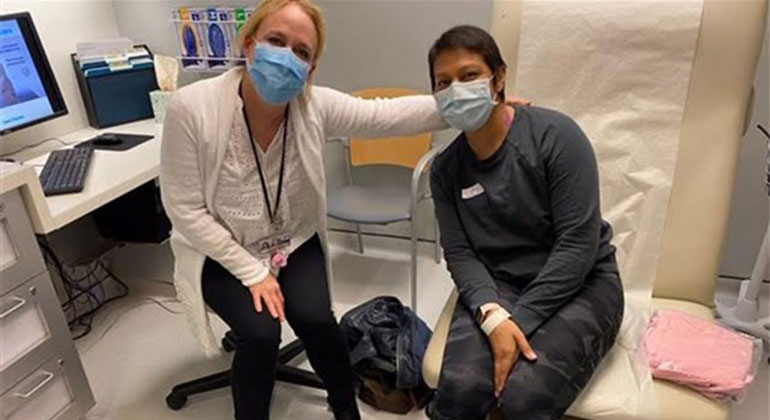 Safely Guiding a Patient's Journey With Triple Negative Breast Cancer
Tanya Bhatia, a 33-year-old interior designer, has been living with breast cancer since 2010. She has a strong family history of cancer on her father's side and also carries the BRCA-1 genetic mutation. She hasn't let her diagnosis interfere with her professional goals, though. She completed a master's degree in architecture and has carried on with an intense and demanding career, all while receiving cancer treatment and facing the challenges of the COVID-19 pandemic.
In 2010, Tanya discovered a lump in her right breast while taking a shower. She was living in Bahrain and went to Germany for care. She was diagnosed with triple negative breast cancer, an aggressive condition that is common among young women who carry the BRCA-1 genetic mutation. She underwent chemotherapy to shrink the tumor, followed by a mastectomy and reconstruction. Five years later, she developed a second primary cancer in her left breast. This time, she was in New York City, having moved to the United States to attend graduate school, then to New York for a job. Amy Tiersten, MD, breast oncologist at the Dubin Breast Cancer Center of The Tisch Cancer Institute at Mount Sinai, treated her with chemotherapy, followed by a mastectomy and reconstruction. In 2018, Tanya developed a third primary breast cancer under her arm. She was concerned about receiving a third round of chemotherapy, so she chose to participate in a clinical trial of an oral biologic agent called a PARP inhibitor for patients with breast cancer and the BRCA-1 gene. A year later, in 2019, when Tanya had follow up imaging, her Mount Sinai team discovered that the breast cancer had metastasized to her liver.
In late 2019 she was enrolled in a clinical trial of carboplatin chemotherapy in combination with everolimus (an oral biologic) that thus far has been successful in shrinking the tumor. After having a serious allergic reaction to the chemotherapy when given in the outpatient setting, Tanya has needed to be admitted overnight in the hospital for close observation during the infusion every three weeks. As a patient with metastatic breast cancer receiving chemotherapy, Tanya was cared for with extreme caution to protect her from COVID-19. She was tested for COVID-19 before each treatment/admission and was isolated from any area in the hospital where COVID-19 patients were treated. "Tanya was really brave and strong," says Dr. Tiersten.
"I'm very happy with all the treatment I've received at Mount Sinai," Tanya says. "My doctors have been amazing, and I would never go anywhere else."
Next steps
Learn more about the Dubin Breast Center
Podcast: Cancer is Me