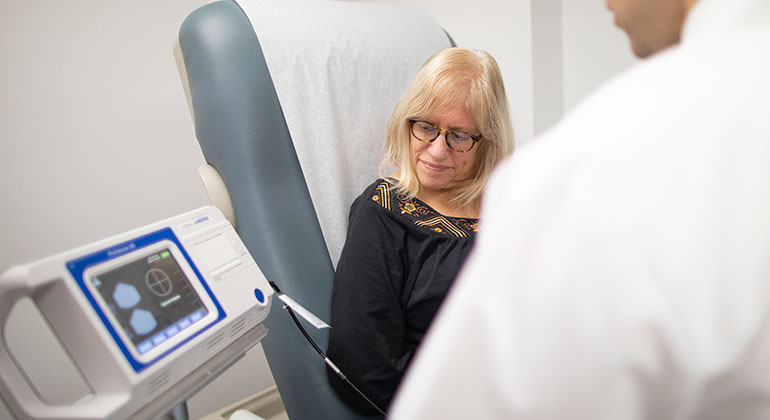 At Mount Sinai Doctors-Westchester, we understand it takes more than medicine to achieve good health. That's why the gynecologic care we provide combines the newest science with preventive services as well as counseling on exercise, nutrition, and personal safety.
Conditions We Treat
We believe in the value of communication. We take the time to nurture a close relationship with each of our patients. Our highly skilled physician offers expertise in managing routine as well as complex gynecologic problems, including abnormal bleeding, fibroids, infertility, pelvic pain, contraception, vaginal infections (simple and recurrent), incontinence, pelvic masses, abnormal pap smears, breast disease, complications related to menopause, and adolescent gynecologic problems.
With offices in Hartsdale, Pelham and Yonkers, we offer same-day and weekend appointments to accommodate women's busy schedules. We respect your need for convenient care. Our warm and welcoming staff does everything possible to keep your in-office wait times and paperwork to a minimum.
Gynecology Treatments We Provide
Our patients receive the best available evidence-based care personalized to their individual needs. Committed to the importance of preventing disease, our practice provides annual exams, preventive care (such as screenings for breast and cervical cancers), and immunizations. We also offer a host of in-office services and procedures, including family planning, colposcopy, cryotherapy, loop electrosurgical excision procedure, hysteroscopy, and biopsies. For those needing surgery, our specialist performs a wide array of procedures at conveniently located off-site facilities, using minimally invasive approaches when appropriate.
Why Choose Mount Sinai Doctors-Westchester
At Mount Sinai Doctors-Westchester, our experienced physician brings the superb gynecologic care of the Mount Sinai Health System home to our Hudson Valley communities. We also offer a range of other specialties—including family medicine, diabetes care, orthopedics, and more—under one roof, making sure that each of our patients has convenient access to a wide spectrum of health care services.