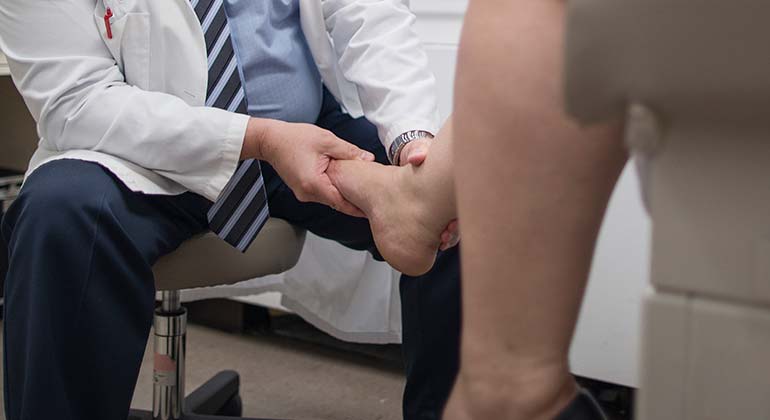 Having a painful condition that affects your foot or ankle can make even everyday activities difficult. At Mount Sinai Doctors-Westchester, our skilled podiatrist has extensive experience providing comfort through the best available treatments so that you may return to the activities you love free of pain.
Our podiatry practice treats a full range of general podiatric issues, including:
Flat feet
Heel pain and plantar fasciitis
Inflammation and pain in the ball of the (Metatarsalgia)
Orthotics
Skin conditions such as athlete's foot, plantar warts, corns, and hyperperspiration
Tendinitis and Achilles tendinitis
Toenail deformities, including ingrown and fungal nails
We also provide foot care for conditions associated with diabetes. Our approach begins by spending quality time with each patient in order to make an accurate diagnosis and fully educate you about your condition. We will discuss all appropriate treatment possibilities for you—including both nonsurgical and surgical options, when needed—to make sure you achieve the best immediate and long-term health.
Why Choose Mount Sinai Doctors-Westchester
Our highly skilled podiatrist is part of the Mount Sinai Doctors-Westchester team of physicians. With specialties ranging from diabetes education to orthopedics, our physicians work together to treat, and even prevent, podiatric issues among our patients. As part of the Mount Sinai Health System, we bring the premier clinical excellence of a major medical center home to lower Westchester communities.