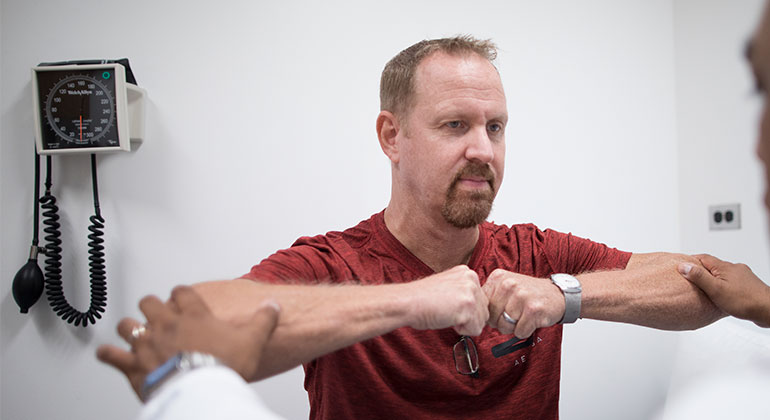 There is a wide range of reasons to see a physiatrist, from sudden back pain caused by lifting a heavy object to chronic carpal tunnel syndrome resulting from prolonged computer use. At Mount Sinai Doctors-Westchester, our highly skilled physiatry specialist has extensive experience caring for acute and chronic conditions affecting the neuromusculoskeletal system. Whether your discomfort is coming from an accident or illness, we provide both long-standing and the newest available treatments to relieve pain and improve function.
Conditions We Treat
Our physiatry specialist is board certified in Physical Medicine and Rehabilitation with a concentration in spine and musculoskeletal medicine. Using a comprehensive, non-surgical approach, our physiatry practice treats a variety of spinal conditions, including back pain, neck pain, disc herniation, sciatica, spinal stenosis, sacroiliac joint pain, and spinal fractures. Our team also provides care for a number of musculoskeletal conditions, such as shoulder pain, elbow pain, hand and wrist pain, hip pain, and knee pain.
Treating patients of all ages, our practice believes in exhausting all noninvasive therapies before recommending surgery. Instead of focusing on the condition or the part of the body affected, we are committed to a holistic approach that considers the patient as a whole person.
Our Services
From the initial diagnosis through the entire course of rehabilitation, our physiatrist is committed to combining personalized attention with medical expertise in order to ensure you achieve the best possible outcome. The non-surgical spinal procedures we provide include:
Epidural steroid injections
Facet injections
Joint injections
Medial branch blocks
Peripheral nerve block
Radiofrequency ablation
Sacroiliac joint injections
Spinal cord stimulator trial placements
Trigger point injections
We also offer surgical planning and post-operative care, as well as complementary medicine therapies.
Why Choose Mount Sinai Doctors-Westchester
Physiatry works best when it collaborates with other specialties to provide comprehensive, holistic care. Mount Sinai Doctors-Westchester includes orthopedics, podiatry, internal medicine, and a range of other disciplines under one roof, all working together to ensure you receive the best possible treatment. We are also part of the Mount Sinai Health System, bringing the clinical excellence typically found only in major medical centers home to our lower Westchester community.