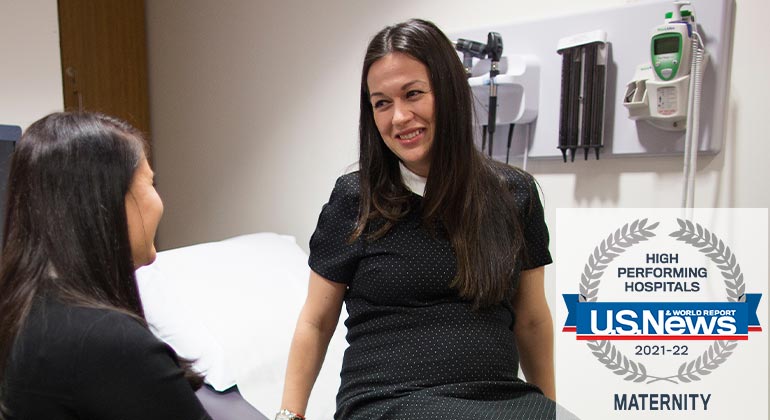 Obstetrics, Gynecology, and Reproductive Services at Mount Sinai West
Whatever your needs, from growing your family to maintaining your best health, the dedicated specialists of Mount Sinai West offer the full range of gynecologic, obstetric, and reproductive health services, including complete pregnancy and newborn care. Understanding that every family is different, we believe in partnering with our patients to personalize our services to your needs and preferences.
Through our affiliation with the Icahn School of Medicine at Mount Sinai, our physicians participate in research to expand evidence-based diagnostics and treatments, giving our patients access to the best available options. We draw on the best science and medicine to customize the right care plan for you.
Pregnancy and Birth
Mount Sinai West Pregnancy and Birth specialists are here for you from your first prenatal visit through postpartum care to ensure your health and safety while creating the labor and delivery experience you want. We embrace a minimal-intervention approach for our low-risk patients, and offer a range of pain management options suited to your needs.
If you choose, your team can also include one of our experienced certified nurse-midwives who provide personalized prenatal care, as well as labor and delivery care in Mount Sinai West's Labor and Delivery Suite.
Our Maternal-Fetal Medicine (MFM) team provides expertise in pregnancies that may be high-risk due to conditions such as diabetes, high blood pressure, or preterm labor. Understanding the worry that a high-risk pregnancy can cause, our specialists focus on listening to you, answering your questions, and deciding your care plan together. Your general obstetrician may consult with a high-risk pregnancy specialist about your care, and if needed, refer your obstetric care to the MFM practice. The MFM practice includes a genetic counselor and comprehensive genetic diagnostics and counseling, as well as a dedicated diabetes nurse-educator and nutritionist.
Gynecology Services
Our expert gynecology team provides a range of services as you progress through the phases of life, from performing routine medical exams to treating menstruation disorders to alleviating menopause issues. We are well equipped to provide exceptional, integrated health care to people of all ages.
We provide expert gynecologic care in areas including:
Endometriosis and pelvic pain
Family planning
Fibroid care
Gynecologic cancer
HPV and cervical dysplasia
Sexual health
Minimally Invasive Gynecologic Surgery
Our highly-trained subspecialists provide minimally invasive and complex gynecologic surgery and specialize in evaluating and treating people who have a wide range of noncancerous (benign) gynecologic conditions, including heavy menstrual periods (menorrhagia), irregular menstrual periods (metrorrhagia), pelvic pain, endometriosis, and ovarian cysts.
Gynecologic Oncology
Our Gynecologic Oncology team provides complete and integrated services for the diagnosis and treatment of gynecologic cancers and precancerous conditions. We offer conservative approaches and the latest minimally invasive surgical options.
Should surgery become necessary, our oncologists will offer the least invasive options not only to provide safe and effective treatment, but to reduce scarring and shorten hospital stays, recovery time, and risks of complications.
Urogynecology and Pelvic Reconstructive Surgery
The Urogynecology and Pelvic Reconstructive Surgery specialists have advanced training in the diagnosis and treatment of pelvic floor disorders, including bladder control problems, and the dropping (prolapse) of the uterus, bladder, rectum, and vagina.
Ultrasound and Evaluation Services
Our genetics, ultrasound, and maternal-fetal evaluation suites provide state-of-the-art screening and diagnostic testing services.
In the Fetal Evaluation Unit, our maternal-fetal medicine team provides expert screening and diagnosis for all maternal and fetal conditions using the latest technology. We perform comprehensive genetic screening and testing, ultrasound, and complex fetal treatments.
The Genetics Division offers complete prenatal genetic testing and counseling to help you plan for your family.
Reproductive Endocrinology and Infertility
Our Reproductive Endocrinology and Infertility team provides services at Reproductive Medicine Associates of New York–Westside, which offers comprehensive reproductive health care treatment. Combining state-of-the-art approaches with personalized attention, our specialists are national leaders in the areas of infertility, in vitro fertilization, surrogacy, and recurrent pregnancy loss.