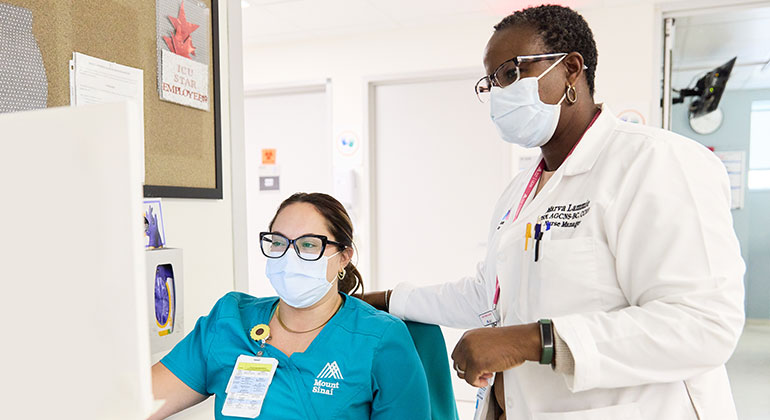 Mount Sinai Morningside Medical Intensive Care Unit
At Mount Sinai Morningside's Medical Intensive Care Unit (MICU), we take care of patients with serious injuries or illnesses. Our physicians, nurses, and respiratory therapists provide 24/7 care. The MICU cares for a wide range of patients, including those who have:
Cancer
Heart attack
Infections
Kidney failure
Pulmonary embolism
Respiratory failure
Stroke and other neurologic problems
Our Team
Our physicians are experts in critical care, pulmonology, internal medicine, and emergency medicine. They work closely with our nurses, respiratory therapists, nutritionists, physical therapists, and respiratory therapists. We often involve specialists in other fields, when appropriate. Our social workers, chaplains, and palliative care specialists can offer emotional support for you and your family. Language interpretation is available. We use the most advanced approaches for sedation, respiratory failure, and pulmonary embolism. We work as a team works to provide continuity and safety as you transfer from the intensive care unit (ICU) to the medical units.
Our Facility
Our state-of-the-art facility has the latest in monitoring, ultrasound, and fiber optic imaging. We generally accommodate up to 16 patients, all in private rooms. In addition, we are located right next to the surgical intensive care unit. This gives us easy access to collaborate with surgical colleagues.
Palliative Care
At Mount Sinai Morningside, we realize that ICU patients and their families need support. We offer patient and family-centered care that focuses on quality of life. This means we try to ease uncomfortable symptoms, provide emotional support, and offer clear information about the patient's condition. We work with the family on setting care goals and making decisions.
Rules for Visitors
Due to COVID-19, our visitor rules change periodically. Please reach out to us at 212-523-5817 or visit here for current rules.