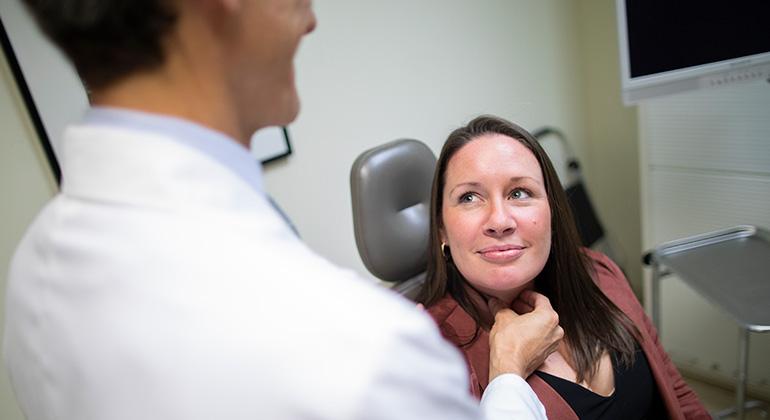 Head and Neck Cancer Care
If you or a loved one has a head, neck or thyroid condition, you want the best possible care with the least invasive approach. You will most likely be seeking highly experienced physicians who treat you like a whole person and work in a multidisciplinary (team) approach. Whether you have throat cancer or benign thyroid disease, Mount Sinai Doctors-Long Island brings the head and neck oncology expertise of the Mount Sinai Health System to Queens, Nassau, and Suffolk counties. We provide advanced diagnostics and research-backed treatments and state-of-the-art care to your neighborhood.
Services We Offer
As leaders in skull base surgery and head and neck oncology care, Mount Sinai's world-renowned head and neck specialists provide advanced procedures and research-backed treatments. Eric M. Genden, MD, Chair of the Department of Otolaryngology – Head and Neck Surgery, was the first to perform transoral robotic surgery (TORS) for oropharyngeal cancers in New York, and our team continues to lead the field with the latest, state-of-the-art technologies.
In our Manhasset office, Dr. Genden offers a range of diagnostic and treatment services for cancers of the head, neck, and skull base. These include consultations, biopsies, scopes, and pre- and post-operative care.
If you need more advanced care, we provide seamless connections to additional specialists throughout the Mount Sinai Health System. For example, Mount Sinai's Skull Base Surgery Center specializes in endoscopic (minimally invasive) procedures. We also offer access to immunotherapies through clinical trials. Additionally, the Medical and Radiation Oncology Surveillance Program on Long Island provides care during and after treatment.
To book an appointment, please call 516-370-3434. To arrange a telemedicine appointment, email ENTtelemedicine@mountsinai.org.
Conditions We Treat
Head, neck, and skull base tumors are complex and affect the delicate structures and systems in the mouth, jaw, ear, sinuses, and throat. Our experts are highly skilled in treating benign tumors and cancers while preserving healthy tissue. We treat all types of head and neck diseases, including those affecting the:
Larynx
Mouth
Salivary glands
Sinuses
Skin/face
Skull base
Throat
Thyroid and parathyroid
Trachea
Innovative Head and Neck Cancer Research
Patients at Mount Sinai Doctors-Long Island can benefit from a wide breadth of nearly 100 translational studies and clinical trial at Mount Sinai's Head and Neck Cancer Research Program. Our dynamic team of physician-scientists, biologists and researchers are investigating immunotherapies, quality of life with TORS, and the effect of HPV on oropharyngeal cancers. We are also a leading resource for dormant tumor cell research. These research activities and findings give you access to advanced treatments that might not be available otherwise.
Why Choose Mount Sinai Doctors-Long Island for Head and Neck Care
At Mount Sinai Doctors Manhasset, our patients have the following distinct head and neck oncology care advantages:
Foremost minimally invasive head and neck surgeons
State-of-the-art technology, including TORS and sialendoscopy
Microvascular, reconstructive and oral and maxillofacial surgeons
Vast experience with HPV-related oropharyngeal cancers
Multidisciplinary (team) approach
Medical and Radiation Oncology Surveillance Program
Access to clinical trials
Easy access to care, including telemedicine appointments
Most of all, this convenient location enables patients to access world-class care in a setting close to home. Call us today to get started.