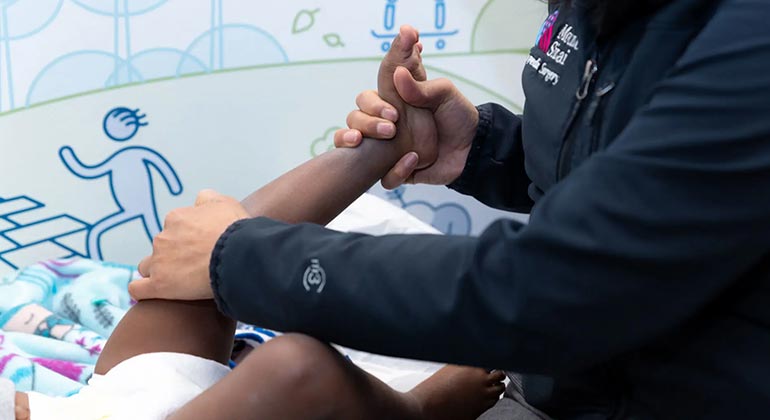 Comprehensive Neuromuscular Care Clinic
The Comprehensive Neuromuscular Care Clinic at Mount Sinai provides coordinated, multidisciplinary care to pediatric patients with complex medical conditions. Given the severity of their conditions, these children often see many providers multiple times a year. This poses challenges for families with regard to planning visits and coordinating care amongst multiple providers.
As the only service of its kind in the New York City area, the goal of the Comprehensive Neuromuscular Care Clinic is to provide children with chronic medical conditions seamless, coordinated health care. Our program streamlines the care experience and ensures that patients and their families are actively involved in the medical decision-making process.
Mount Sinai physicians donate their time twice a month to treat the most medically complex patients: patients with significant neurologic issues, cerebral palsy, spina bifida, and muscular dystrophy, as well as other syndromes and conditions. Our clinic treats six to eight patients each session. In a single day, our patients will be seen by up to 13 providers.
Our pediatric providers include:
Care Coordinators
Complex Care Pediatricians
Child life
Dentist
Developmental Psychiatrist
Endocrinologist
Neurologist
Neurosurgeon
Nutritionist
Occupational Therapist/Wheelchair Accommodation Specialist
Orthopedic surgeon
Orthotist (Brace Maker)
Social workers
Urologic Surgeon
Participating patients receive comprehensive and timely treatment for complex issues. Our dedicated providers work to ensure continuity of care and enhanced communication within each patient's care team. This immersive health care program provides coordinated, family-centered care that reduces trips to the hospital and helps ease the stress involved with caring for a child with complex medical conditions.
As the Comprehensive Neuromuscular Care Clinic continues to grow, we hope to serve as an exemplary model and inspiration for other programs to better serve patients. With the help of donations, we hope to expand this program and provide high-quality care to more patients.