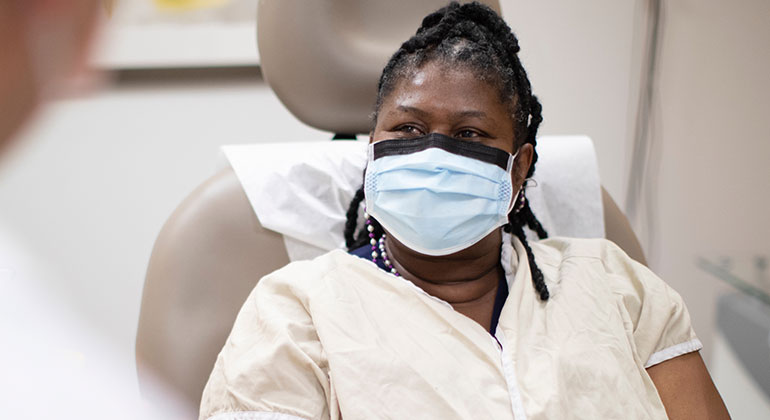 If you have concerns about your breast health, Mount Sinai Doctors-Scarsdale can help. Our breast specialists, conveniently located in Scarsdale, Westchester County, can expertly assess your condition, and work with you to develop a comprehensive and personalized treatment plan.
As a Mount Sinai patient, you benefit from our extensive network of specialists, all working together to provide the latest treatment options for benign breast disease and breast cancer. This includes our expert breast surgeons, radiologists, medical and radiation oncologists, genetic counselors, and pathologists. Your entire treatment plan is coordinated from our Scarsdale location, where you can also receive your follow-up care.
Conditions We Treat
We diagnose and treat a variety of benign (non-cancerous), high-risk, and cancerous breast conditions.
Benign conditions include:
Breast cysts and calcifications
Nipple discharge
Breast abscess: Swollen, tender mass filled with infected fluid in the breast
Fibroadenoma: Benign tumor of the breast
Intraductal papilloma: Small lump inside the milk ducts of the breast
Phyllodes tumor: Rare, mostly benign, tumors that arise from the connective tissue of the breast
Fibromatosis (desmoid tumor): A rare, benign tumor arising from the stroma (connective tissue) of the breast
High-risk conditions are not cancerous but may increase your risk of developing breast cancer. Treatment may be recommended to make sure they do not progress into cancer. High-risk breast conditions include:
Sclerosing Adenosis: Benign breast lesion involving increased distorted lobules accompanied by stromal fibrosis
Flat epithelial atypia: Abnormal cells within the milk ducts
Radial scar or complex sclerosing lesion: Changes in the breast that look like a scar but may mask another condition
Atypical ductal hyperplasia: Abnormal cells in the milk ducts of the breast
Atypical lobular hyperplasia: Abnormal cells in the breast lobules
Lobular carcinoma in situ: Abnormal cells in the breast lobules; lesion at high-risk for development of cancer in both breasts
Breast Cancer
Malignant phyllodes tumor
Adenoid cystic carcinoma of the breast
Angiosarcoma of the breast
Ductal carcinoma in situ (DCIS): Non-invasive, Stage 0 breast cancer
Invasive ductal carcinoma
Inflammatory breast cancer
Metastatic breast cancer
Recurrent breast cancer
Services We Offer
We offer the most advanced treatments available for breast cancer and breast disease, with state-of-the-art imaging capability. As our patient, you can rest assured that you will have access to the full resources of the Mount Sinai Health System, including the ability to participate in clinical trials offered at the Icahn School of Medicine at Mount Sinai.
Our breast services include:
Initial consultation
Diagnostic testing, including imaging tests such as:

3D mammograms
CT, MRI, and PET scans
Ultrasound

Genetic testing and counseling
Development and management of a personalized treatment plan
Surveillance of patients at high risk of developing breast cancer
Patient education and counseling
Medical oncology (chemotherapy and immunotherapy)
Radiation therapy
Surgical treatment including:

Lumpectomy (removal of the tumor and a small amount of breast tissue surrounding it)
Mastectomy (removal of all the breast tissue)
Skin-sparing and nipple-sparing mastectomy
Oncoplastic breast reconstruction following lumpectomy
Immediate breast reconstruction following mastectomy including options for implant- or tissue-based reconstruction

Ongoing follow-up care
Why Choose Mount Sinai Doctors-Scarsdale
At Mount Sinai Doctors-Scarsdale, you enjoy the benefits of a Mount Sinai facility close to home and the extensive array of expertise available throughout the Mount Sinai Health System. We work closely with your referring physician to ensure you receive coordinated, comprehensive care.