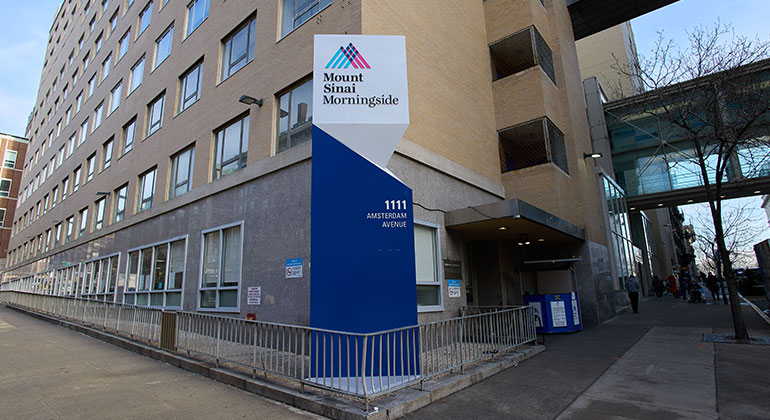 Emergency Services at Mount Sinai Morningside
At the emergency department of Mount Sinai Morningside, our mission is to provide excellent, compassionate patient care when you need it most. We are fully staffed with board-certified doctors, nurses, physician assistants, social workers and case managers who specialize in emergency medicine. Our doctors and nurses are available 24 hours a day, seven days a week for specialized emergency services in obstetric and psychiatric emergencies.
Patients who enter the Mount Sinai Morningside Emergency Department are immediately seen by a nurse who evaluates their medical condition. Once evaluated, you will be brought into a treatment room and promptly treated by our expert medical team. If an X-ray or ultrasound is needed, we usually do it very quickly in the emergency department. The doctor treating your emergency will be nearby and if your condition changes suddenly, he or she can respond immediately.
For non-life threatening injuries and illnesses, our emergency department provides Fast Track service – treatment administered in a separate space by our emergency doctors. Patients with immediate but less critical needs are treated quickly in a more comfortable environment than the main emergency room. Fast Track is available from 8 – 11:00 pm.
Psychiatry Emergency Outreach
Our comprehensive emergency department provides rapid evaluation and treatment of psychiatric disturbances. We also plan for follow- up care. The four emergency service components of our psychiatry emergency outreach program include: psychiatric emergency rooms, extended observation beds, mobile crisis outreach, and the crisis residence program.
Stroke and Heart Attack Care Teams

Any patients who arrive at our emergency department with chest pain will receive an EKG shortly after arrival. Our 24-hour cardiac catheterization lab has capabilities to treat patients with symptoms of a heart attack. In the lab, a small wire is threaded up the femoral artery in the groin to the heart, and a balloon on the tip of the wire is used to open the artery and expand a chicken wire-like stent to hold the artery open. The blood can then flow freely to supply the heart muscle with oxygen and other nutrients.
For stroke patients, our rapidly deployed stroke team is capable of administering thrombolytic (clot-dissolving) medication to eligible patients within three hours from the onset of symptoms, the time period recommended by the American Heart Association.
Follow-Up Care

After your emergency medical condition has been treated, our staff will help you receive the follow-up care you need. With our physician referral service, we can provide you with the information of a doctor in your insurance plan who can provide you with follow-up. If possible, we will make an appointment for you in one of our many specialty clinics. Several test results may not be available until after you are released. For any such cases, our physician assistants will call you if the results are positive.