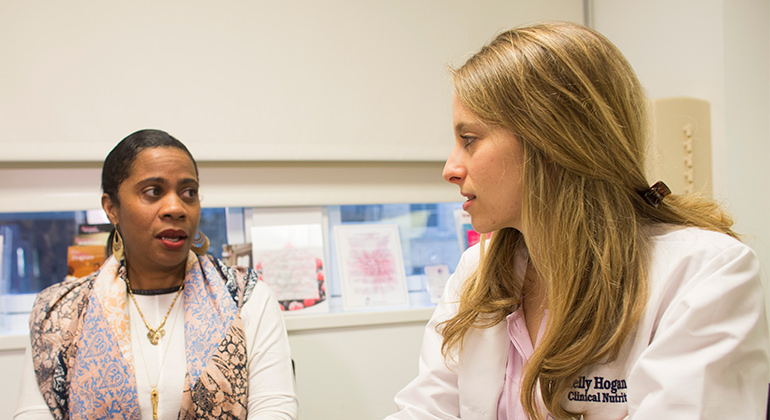 At the Dubin Breast Center, we believe in addressing all your needs—body, mind, and spirit.
We offer integrative and supportive services for all stages of your cancer journey—from diagnosis through survivorship. We strive to help you cope with any physical and emotional side effects you may experiece. We want to help you take the best care of yourself beyond treatment. All of our integrative programs are evidence-based, and reflect the latest scientific research. Our approach lets you choose which services you want for your own personalized care plan.
We have a staff of skilled, empathic integrative medicine professionals to provide these services. Our support staff includes psychologists, massage therapists, and nutritionists. Our staff members are licensed and/or credentialed and have cancer-specific training and expertise.
Services Offered
We recognize that everyone experiences cancer and its treatment differently. Some people experience many physical symptoms. Others find the experience highly stressful. To help, we tailor services to meet your individual needs and goals. We offer a wide variety of short- and long-term interventions.
Our short-term interventions can strengthen your ability to cope with the emotional and physical effects of breast cancer and its treatment. Our services include:
Care for stress management
Massage
Hypnosis
Relaxation techniques
Our longer-term interventions can help you with family and role changes, body image, and depressed and anxious moods. Our services include:
One-on-one talk therapy sessions
Nutrition
Smoking cessation and lifestyle changes
Classes and workshops
Research and Training
We work hard to ensure that the quality of breast cancer care is always improving. We conduct innovative research to develop and test new interventions. Our goal is to help improve your quality of life. We also train professional health care providers from all over the country in our evidence-based techniques.