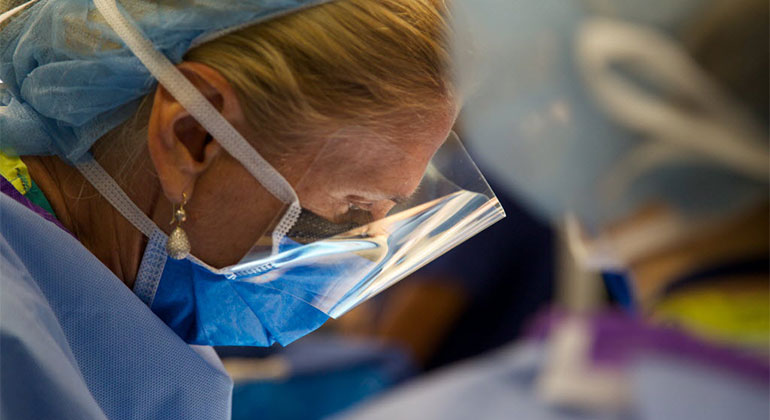 At the Center of Excellence for Breast Cancer at the Mount Sinai Health System, our skilled surgeons use the latest technologies for breast surgery. We strive to achieve the best result, medically and aesthetically.
There are several types of breast surgery. Most often, we perform either a breast-conserving procedure (removing the cancer leaving most of the breast) or a mastectomy (removing the whole breast). If you have a breast conserving procedure, you may receive radiation treatment afterward.
If you have early-stage breast cancer, you may be able to choose the type of surgery you will receive. Research shows that women with early-stage breast cancer who have breast-conserving surgery along with radiation therapy live as long as those who have a mastectomy. We can perform skin-sparing or nipple-sparing mastectomy with immediate reconstruction for women who have a mastectomy. If you have a mastectomy, you may also consider breast reconstruction.
If you are able to choose your procedure, your surgeon will sit with you and discuss the pros and cons of each. We are available to answer any questions you may have. If you would like, we can help you decide what is best for your body.
Most women with breast cancer lead long, healthy lives after treatment. Usually, treatment for breast cancer begins a few weeks after diagnosis. In these weeks, you should meet with a surgeon, learn the facts about your surgery options, and think about what is important to you. Then you and your doctor choose which surgery you will have.
For Your Appointment
To provide the best possible care in a timely fashion, we need to have all of your medical information before your first visit. We need all documentation about tests and procedures you may have had. Please fax any documentation to us and send all radiology images on disc and pathology slides. Providing all the medical information prior to your visit will make your visit more comprehensive. In addition, you will need to fill out our breast surgery forms so we can have all the information we need. Please contact your doctor for more information.
Meet Our Team