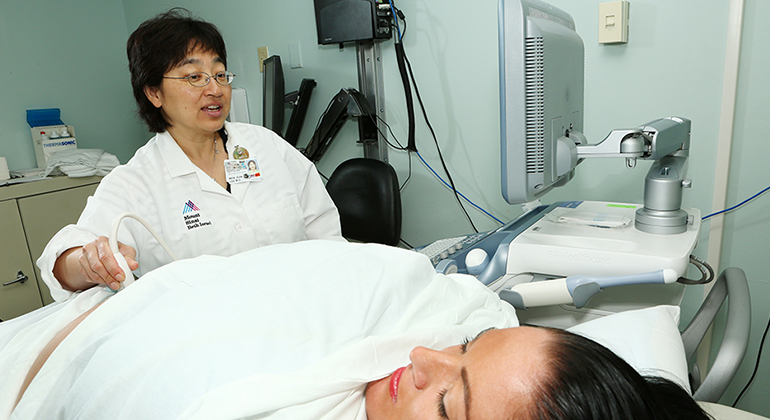 Obstetrics and Gynecology at Mount Sinai Beth Israel
Mount Sinai Beth Israel offers outstanding general obstetrics and gynecology services as well as expertise in the specialties of gynecologic oncology, reproductive endocrinology, female pelvic medicine and surgery, family planning, and pregnancy and birth. Our specialists have extensive training in handling many preventive health issues, including immunizations, contraception, cancer screenings, and geriatric care. Our specialists address additional health issues, including standard diagnostic and physical examinations, depression, domestic violence, smoking, family planning, menopause, fibroids, abnormal menstruation, and endometriosis.
Our doctors call upon our diverse backgrounds and experiences to provide you with exceptional health care through comprehensive and personalized treatment.
Breastfeeding
Mount Sinai Beth Israel offers a wide range of services related to breastfeeding through the Breastfeeding Center of Manhattan.
The Breastfeeding Center of Manhattan at Mount Sinai Beth Israel
At the Breastfeeding Center of Manhattan at Mount Sinai Beth Israel, located at 350 East 17th Street, 9 Baird Hall, we provide education and assistance to women who will be breastfeeding. Contact us at 212-420-2093.
Prenatal Breastfeeding Class
This two-hour talk is led by a board certified lactation consultant as part of our parenting preparation class. You can also choose just to attend the lactation session, which addresses proper positioning, latching-on, avoiding nipple soreness and breast engorgement, and expressing and storing breast milk. E-mail biparented@aol.com for information and registration, or learn more.
Private Prenatal Breastfeeding Class
We can arrange for an appointment with a private lactation consultant.
Call 212-420-2093 for information and registration.
In-Hospital Support and Care
Our nursing staff is trained to provide any support you need with breastfeeding. Just like the prenatal breastfeeding class, postpartum breastfeeding classes are available and taught by board certified lactation consultants. Learn more.
Call the "Warm-Line"
The "Warm-Line" also offers the help of lactation consultants over the phone.
Reach the Warm-Line at 212-420-2939.
Outpatient Consultation
If you are having difficulty breastfeeding after you leave the hospital, you can also meet with a lactation consultant for an extra fee.
To arrange a meeting, call outpatient consultation at 212-420-2093.
Additional breastfeeding services are provided by International Lactation Consultant Association, Kellymom, Ask Lenore, La Leche League International, and Breastfeeding Online.
Breastfeeding Resources
We have multiple breastfeeding resources available for all of our patients including:
In-Hospital Newborn Photography
Mount Sinai Beth Israel is working with Gaga Baby Photos to provide professional photography in your hospital room to preserve those first wonderful moments with your newborn.
Since you cannot always predict exactly when your baby will arrive, Gaga Baby does not require appointments. Simply speak with a medical staff member prior to or after delivery and we will reach out to one of our professional baby photographers. Your photographer will come to your hospital room and spend 20 to 30 minutes with you and your family
If you are not satisfied with the photos, there is no obligation to buy. You only have to pay if you choose to keep the photos. Once your session ends, we send all photos to a password-protected online gallery. You can choose to buy the photos before or after you leave the hospital.
Books