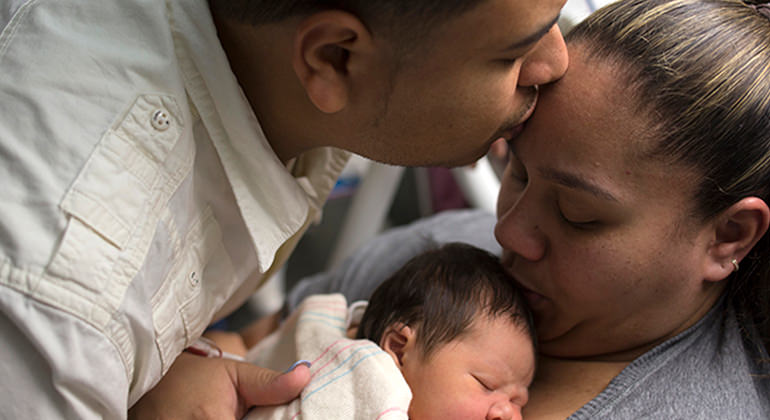 The Lauder Center for Maternity Care
The Jo Carole and Ronald S. Lauder Center for Maternity Care is a state-of-the-art facility well known for providing exceptional hospital-based postpartum care with an emphasis on individualized and compassionate care. Our highly-skilled obstetricians and pediatricians are exceptionally trained and dedicated to providing the best possible care for you and your family.
Mother/Baby Amenities
We offer a wide variety of convenient amenities to help make you and your newborn comfortable and to ensure that these joyous first days are memorable. In-room amenities include a luxury bath and body kit, a sleep kit for restful naps and nights, breastfeeding pillows for proper support and comfort, and a mid-afternoon Relax and Refresh beverage and snack to help you rejuvenate. Our rooms also feature enhanced technology for your convenience, including bedside tablets and electronic meal ordering. Following the birth of your baby, you will have access to online postpartum health education tools for use during your stay and when you return home.
Lactation Services/Consultation
Breastfeeding is natural, but sometimes it doesn't come as easily as expected. A certified lactation consultant can personally guide you to learn breastfeeding skills, such as positioning, latching on, and suck assessment. We offer one-on-one assistance by a lactation consultant upon request.
Services Available
For your convenience, we offer the following services:
Breast Pump Rentals and Sales
To rent or purchase a breast pump, please visit Room 5 on the 8th Floor of Klingenstein Pavilion, located at 1176 Fifth Avenue, Monday through Friday, 8 am to 4 pm. You can call 212-241-2176 to schedule an appointment.