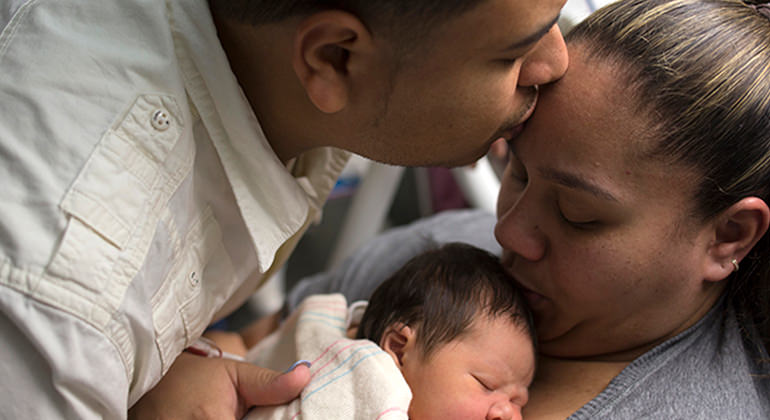 The Lauder Center for Maternity Care
The Jo Carole and Ronald S. Lauder Center for Maternity Care is a state-of-the-art facility well known for providing exceptional hospital-based postpartum care with an emphasis on individualized and compassionate care. Our highly-skilled obstetricians and pediatricians are exceptionally trained and dedicated to providing the best possible care for you and your family.
Mother/Baby Amenities
We offer a wide variety of amenities to make you and your newborn comfortable and to ensure that these joyous first days are memorable.
Private Duty Nursing
If you need a little extra care, the Maternal Child Health Care Center offers private duty nursing on the mother/baby unit for an extra fee, to be discussed by the nurse and family. Our private duty nurses are experienced in providing quality family-centered care that meets the expectations of The Mount Sinai Hospital.
Lactation Services/Consultation
Breastfeeding is natural, but sometimes it doesn't come as easily as it might. Our board certified lactation consultants offer breastfeeding classes for mothers and babies in all units in the Lauder Center. You learn breastfeeding skills, such as positioning, latching on, and suck assessment. We can also provide one-on-one assistance by a lactation consultant upon request.
Services Available
For your convenience, we offer the following services:
Breast Pump Rentals and Sales
To rent or purchase a breast pump, please visit Room 5 on the 8th Floor of Klingenstein Pavilion, located at 1176 Fifth Avenue, Monday through Friday, 8 am to 4 pm. You can call 212-241-2176 to schedule an appointment. We sell the breast pump and accessories in Lori's Gift Shop, located in the Klingenstein Pavilion lobby in our waiting area.
Gift Shop
Conveniently located in the Klingenstein Pavilion lobby and waiting area, Lori's Gifts offers a wide range of items, including flowers, clothes, balloons, greeting cards, stuffed animals, figurines, home décor items, candles, lotions, and jewelry. At no additional charge, we will deliver to the center's hospital rooms.
Baby's First Day Photography
The Jo Carole and Ronald S. Lauder Center for Maternity Care have partnered with Gaga Baby Photos to offer professional photography for the first moments of your newborn's life.