Mount Sinai and Hudson Yards Announce One-Of-A-Kind Health Care Service Portfolio at Hudson Yards
55 Hudson Yards to House a Comprehensive Health Care Center Catering to all Hudson Yards Residents, Employees and their Families
Hudson Yards today announced a partnership with Mount Sinai Health System, and the creation of a 18,000 square foot state-of-the-art health center on the second floor of 55 Hudson Yards that will provide comprehensive, convenient and exclusive care to all Hudson Yards employees, residents and their families. Scheduled to begin operations in early 2019, the center will provide a complete health care experience delivered by a world-class team of medical experts led by distinguished internist Tina Sindwani, MD.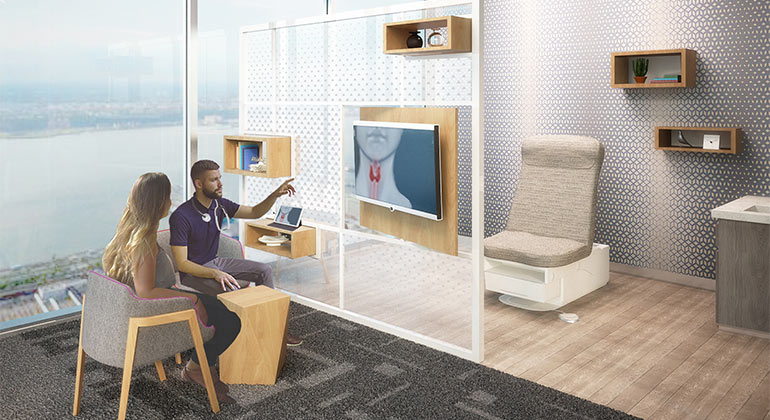 "Providing excellent, convenient health care services has always been a priority in the planning of Hudson Yards," said Related Hudson Yards President L. Jay Cross. "Great neighborhoods have great healthcare providers, and by working with Mount Sinai Health System, the residential and corporate residents at Hudson Yards will have access to a seamless, integrated healthcare system that is focused on catering to their needs and schedules. Both Mount Sinai and Related share a customer-first focus and we are thrilled to create a new paradigm in healthcare here at Hudson Yards."
"We are thrilled to be the healthcare provider of choice at Hudson Yards," said Kenneth L. Davis, President and CEO of Mount Sinai Health System. "Core to our mission is providing innovative services and improving access for diverse populations where they live and work. This bold new development is one of the largest in the country, and this collaboration responds to the needs of a savvy consumer seeking an efficient, high-value healthcare experience."
The collaboration with Mount Sinai brings streamlined access to world-class experts and services to the west side of Manhattan. The Center will offer extended and weekend hours, allowing employers, employees, and residents to choose from a portfolio of services including follow-up care coordination, prescription delivery services to Hudson Yards offices and homes, physical and alternative therapies, home and office visits from an on-call medical team, and dedicated customer service staff.
The addition of Mount Sinai and the Hudson Yards Health Center to Manhattan's West Side community was a crucial component for developers in curating the 24/7 mixed-use neighborhood. The health care service portfolio created by Mount Sinai will be a great complement to the Hudson Yards community and the new parks, restaurants, shops and educational facilities it is bringing to New York City.
The heath center has been designed from end-to-end with the Hudson Yards community's healthcare needs and lifestyle in mind. Onsite, Mount Sinai will leverage the expertise and cutting edge medicine it's known for to provide patients with the highest quality clinical care. When offsite care is needed, Mount Sinai's health care navigators will ensure a continuous experience across any of Mount Sinai's locations. All of this will be delivered with an elevated customer service experience that complements the unparalleled offerings at Hudson Yards.
"The Mount Sinai Hudson Yards practice will provide high quality medical services that Mount Sinai is known for, with enhanced access to both primary and specialty care. In addition, we will offer a holistic approach to help patients manage stress, address chronic pain and behavioral health issues, and make lifestyle changes in order to prevent or treat diseases," said Dr. Sindwani, medical director of the new center. "This practice will provide a complete array of services for Hudson Yards employees and residents. New Yorkers expect convenience and efficiency, as well as the security of knowing that their health care provider is accessible at all times."
For more information about Hudson Yards please visit The Health Center at Hudson Yards.
About Hudson Yards
Hudson Yards is an entirely new neighborhood on Manhattan's West Side, the largest private development in the United States and comprises more than 18 million square feet of mixed-use development. Commercial tenants include: BlackRock; Boies, Schiller Flexner; L'Oréal USA; MarketAxess; Point 72; Tapestry (Coach, Kate Spade and Stuart Weitzman), Time Warner (CNN, HBO, Warner Bros.); and The Boston Consulting Group, among others. The site itself will include over 100 shops and restaurants, including New York City's first Neiman Marcus and signature restaurants by Chefs Thomas Keller, José Andrés, Costas Spiliadis and D&D London; approximately 4,000 residences; 14-acres of public open space; a new 750-seat public school and an Equinox® branded luxury hotel with more than 200 rooms - all offering unparalleled amenities for residents, employees and guests. For more information about Hudson Yards, please visit The Health Center at Hudson Yards.
---
About the Mount Sinai Health System
The Mount Sinai Health System is New York City's largest academic medical system, encompassing eight hospitals, a leading medical school, and a vast network of ambulatory practices throughout the greater New York region. Mount Sinai is a national and international source of unrivaled education, translational research and discovery, and collaborative clinical leadership ensuring that we deliver the highest quality care—from prevention to treatment of the most serious and complex human diseases. The Health System includes more than 7,200 physicians and features a robust and continually expanding network of multispecialty services, including more than 400 ambulatory practice locations throughout the five boroughs of New York City, Westchester, and Long Island. The Mount Sinai Hospital is ranked No. 14 on U.S. News & World Report's "Honor Roll" of the Top 20 Best Hospitals in the country and the Icahn School of Medicine as one of the Top 20 Best Medical Schools in country. Mount Sinai Health System hospitals are consistently ranked regionally by specialty and our physicians in the top 1% of all physicians nationally by U.S. News & World Report.
For more information, visit https://www.mountsinai.org or find Mount Sinai on Facebook, Twitter and YouTube.