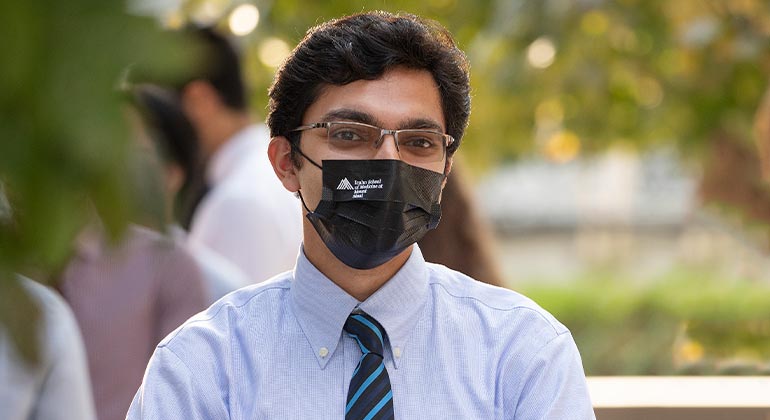 Recognizing Asian Americans and Pacific Islanders Within Mount Sinai
Below we list some of the many Mount Sinai people who deserve to be recognized for their work in both the Asian American and Pacific Islander communities and others. We strive to honor people of all races, ethnicities, religions, sexual orientations, genders, and other identities.

Robert Wright, MD
On February 14, 2022, Robert (Bob) Wright, MD, Chair of the Department of Environmental Medicine & Public Health and Director of the Institute for Exposomic Research, shared a tribute of love and remembrance to his mother who had passed away two days before. It beautifully portrays many common themes and elements of the immigrant experience and the experiences of their children. Read his story

James Tsai, MD
Dr. James Tsai, following in his family's footsteps, has an outstanding career in ophthalmology research, instruction and leadership. Read more about Dr. Tsai's story shared on Altoonamirror.com on January 17, 2022.

Michelle Tran
Michelle Tran, a medical student at the Icahn School of Medicine was recognized as a L'Oréal Paris Woman of Worth. She won a $25,000 donation in December of 2021 for Soar Over Hate, a New York City-based non-profit Michelle founded. This will allow Soar Over Hate to expand and make more donations.

Winston C. Kwa, MD's Commitment to Caring Recognition
Dr. Winston Kwa in Environmental Medicine & Public Health received the Mount Sinai Doctors' Commitment to Caring patient recognition on December 1, 2021. Along with his deep breadth of knowledge, Dr. Kwa is tireless in advocating for patients to ensure they receive the best care. He creates a healing and caring environment that enables patients to have a seamless experience.

Alexis C. Colvin, MD
Dr. Alexis Colvin has made history as the first Asian American, and first woman, to hold the position of Chief Medical Officer for the U.S. Open. In this role, she is responsible for leading the medical team that treats the athletes. We are proud to shine a spotlight, on August 25, 2021, on Dr. Colvin for raising the bar for Mount Sinai Health System, breaking through barriers, and serving as an inspiration for our current and future generations. Find out more

Promotion of Rainier P. Soriano, MD
Dr. Rainier Soriano was selected to be the new Senior Associate Dean of Curricular Affairs after a national search on August 16, 2021. Rainier was born and raised in the Philippines.