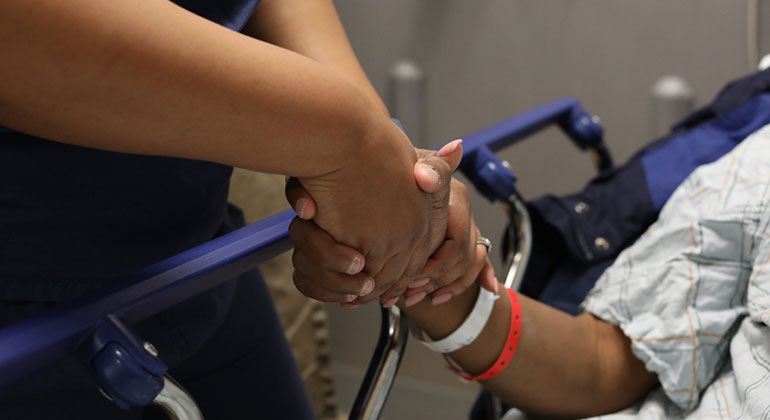 The Office of Patient Experience
Patient Experience is the sum of all interactions that patients have with the Mount Sinai Health System. The delivery of safe, compassionate and equitable care which is shaped by our organizational culture and values.
At Mount Sinai, we are committed to delivering safe, high quality, equitable, and compassionate care in every encounter with every patient who walks through our doors. When we work together as a team, with our staff, patients, and family voices at the center, we can sustain an exceptional experience for both staff and patients.
As a group that supports departments across the Health System, the Office of Patient Experience works on behalf of the Institute to elevate and celebrate the collective efforts around staff engagement and person-centered care. We focus on what matters most to our staff and our patients: listening and supporting staff, elevating the power of storytelling, furthering data literacy, deepening patient and family partnerships, and looking at everything we do through the lens of equity.
Our Staff Is Our Greatest Resource
As a health system, we listen, lead, and learn through our front-line staff. By creating opportunities for them to share their experiences, their concerns and their goals, we can support them with programs and solutions so that they may best care for our patients.
Your Voice Counts
In 2021, Mount Sinai launched the first system-wide employee engagement survey. With an ambitious goal of hearing from all 40,000+ employees, we were able to learn what we are doing well and how we can do even better.
Senior Leader Rounding
Our leadership is committed to our staff. Throughout the system, each individual site engages in a leadership rounding program to keep a pulse on what is happening on the units, to support the staff, and to care for them as they care for our patients. An emphasis placed on this program has led to leaders being more visible and accessible to staff. In doing so, frontline staff do not have to struggle to speak to their leadership, and the health system as a whole gains consistent feedback enables Mount Sinai hospitals to better their care for both patients and their staff.
Listening Sessions
During the pandemic, our teams began holding listening sessions for our nursing staff around the Health System. These sessions provided a safe, confidential, anonymous space to share feedback and provide suggestions. Through these listening sessions, the nursing staff felt heard and shared key feedback that is being put into action.
Partnering with the Cullman Family for the Best Possible Patient Experience
The Cullman family has been a part of The Mount Sinai Hospital from its establishment in 1852. With two family members serving on the first Board of Directors, there has been a Cullman on the Board of the hospital ever since. The Cullman family has proudly watched and participated in Mount Sinai's growth, always celebrating in its excellence and being particularly proud of frontline staff members who provide compassionate and high quality care. In November 2002, the Cullman Institute was established through the generosity of three Cullman brothers to honor their late father and former Trustee, Joseph F. Cullman, Jr. The middle son and Mount Sinai Trustee, Edgar, initiated the efforts and soon enlisted his brothers, Joseph and Lewis, to help launch this special tribute.
Currently, two Cullman siblings - Susan and Edgar, Jr. - serve on the Mount Sinai Health System Boards of Trustees and oversee the activities of the Cullman Institute. The Cullman Family recognizes that hospitals face enormous challenges in today's world. Hospitals face barriers to providing individualized and personal attention to patients. The Cullman Institute works in partnership with the Boards of Trustees, hospital leadership, physicians, nurses, trainees, clinicians from other disciplines and all staff members from the Mount Sinai Health System, as well as volunteers and members of the community, recognizing that each individual makes a unique contribution to the patient's experience. The Cullman Institute makes visible the belief that an excellent patient experience is tantamount to quality health care.
The Cullman Awards: Patient Experience
In 2021, the Mount Sinai Health System celebrated 74 physicians for reaching the 99th percentile in physician communication. We are proud of this newly set record and give thanks to the patients who participated in sharing their experiences with some of the awardees.
Patient and Family Partnerships

Partnering with patients and families is an essential part of our mission at the Mount Sinai Health System. These partnerships teach us how we can make the experience better for everyone who walks through our doors. Our team is committed to creating a safe space for partnerships between patients, family members, and our staff. We strive to elevate the patient and family voice to be heard and learned from.
Our team needs patients and family members like you!
Get involved by:
Sharing your story
Participating in an improvement project ​
Serving on a hospital or clinic committee ​
Participating in a Patient and Family Advisory Council ​
Interested Patient and Family Partners should be: ​
Committed to improving care and services for all patients, families, and community members ​
Willing to listen and consider different points of view ​
Able to share both positive and negative experiences in a constructive way ​
Able to communicate and collaborate with people from different backgrounds, experiences, lifestyles, cultures, and points of view ​
Willing to actively participate in discussions and recommend solutions ​
Please contact us with any questions you may have about the Patient Family Partner Program.