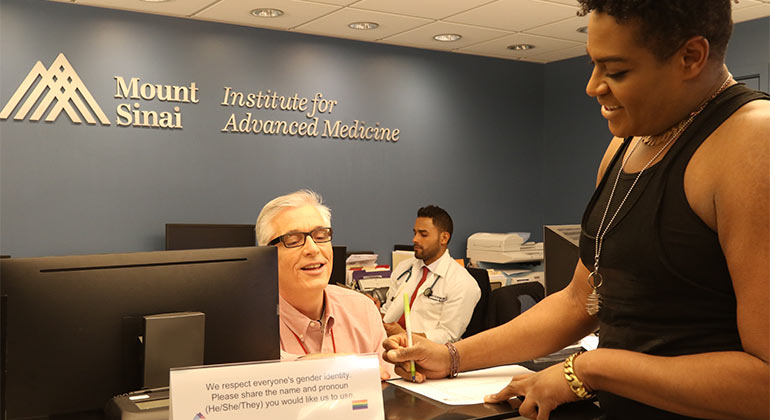 Gender Affirmation Services
We know that trans and gender non-conforming people often seek to change their appearances to better align with their gender identities. Medical interventions can be an important part of that process. Mount Sinai is proud to work with the 32BJ Health Fund to provide members with state-of-the-art transgender medicine and surgical services.
The Mount Sinai Center for Transgender Medicine and Surgery (CTMS) takes a team approach to caring for trans and gender non-conforming people. We work with you to understand your goals and develop a plan to meet your needs. We can provide primary care, hormone therapy, surgical care, gynecology, urology, social work, and mental health support. We customize our efforts to complement your existing care; we can provide all of your medical care or just specific services. We perform all surgical procedures in our advanced operating rooms in several of our hospitals and other health care facilities.
We are here for you and your health care needs. Visit the Center for Transgender Medicine and Surgery website to learn more about our services and procedures.
Program benefits include:
Access to our internationally recognized doctors
Individualized evaluation and care plan created by a multi-disciplinary team
Personal Care Guide who will answer questions and coordinate visits
Counseling and support groups
If you have any questions, please contact the Mount Sinai Union Services team at 914-350-3128 or 32BJ Health Services at 866-230-3225.
Your Personal Care Team
At Mount Sinai, we work as a team to provide you with the best possible care. A Care Guide will guide you through the process. We know your time is valuable and we try to schedule appointments so that you can complete more than one step in a single visit. If we determine that surgery is appropriate, we will refer you to a surgeon.
Please contact Mount Sinai if you have any questions.
Medical and Behavioral Health Services
If you are looking to change your body, we offer hormone therapy and other interventions. We also provide primary care to help you meet all of your health needs in a sensitive and supportive environment. Care options include:
Feminizing and masculinizing hormone therapy
General endocrine needs
Routine and gender-specific care (gynecology)
Post-operative care (urology)
In addition, we offer a wide range of behavioral health services including counseling, support groups, psychiatric evaluations, ongoing medication management, pre-surgical evaluations, pre- and post-surgical psychotherapeutic support, and education for you and your family.
Gender Affirmation Surgery
We use the guidelines developed by the World Professional Association of Transgender Health (WPATH) and the Endocrine Society. We will work with Empire BlueCross BlueShield's requirements, while providing all necessary pre-procedure care, and provide you estimates of care not covered.
Typically, these national standards ask that you have one letter of recommendation from a mental health provider for facial surgery, one letter for chest surgery, and two letters of recommendation for genital surgery. Letters should come from a psychologist or psychiatrist working in transgender health care. Our mental health professionals can work with you to complete this process.
Before we begin, you will meet with several members of our team, including a social worker, primary care provider, and behavioral health specialist. After completing the initial requirements, our team will schedule an appointment with the surgeon.
When you meet your surgeon, you will discuss your goals and agree on a plan for your surgery. Your surgeon will discuss necessary preparations, expected outcomes, risks, and recovery process, and will answer any questions you may have.
Depending on your goals, Mount Sinai can offer surgical services; some of these services may be covered by the 32BJ Health fund. Please contact Mount Sinai at 800-467-4624 or 32BJ Health Services at 866-230-3225 to learn more.
Your Hospital Stay
We perform gender affirmation surgery at New York Eye and Ear Infirmary of Mount Sinai, Mount Sinai Beth Israel, Mount Sinai-Union Square, and Mount Sinai Chelsea, depending on the procedure. At each site, Mount Sinai nursing staff will help you prepare for surgery. You will meet with each member of your surgical team—the surgeon, anesthesiologist, and several nurses—to make sure everything is in order.
After surgery, you will go to the post-anesthesia care unit (PACU). If the procedure requires an overnight stay in the hospital, we will take you to your hospital room.
Leaving the Hospital
After your hospital stay, we will discharge you to a place that best suits your recovery needs. Your surgical team, medical team, and navigator will determine whether a home health aide or skilled nursing home stay is most appropriate.
Mount Sinai will also contact you after leaving the hospital to track progress and to answer any additional questions.