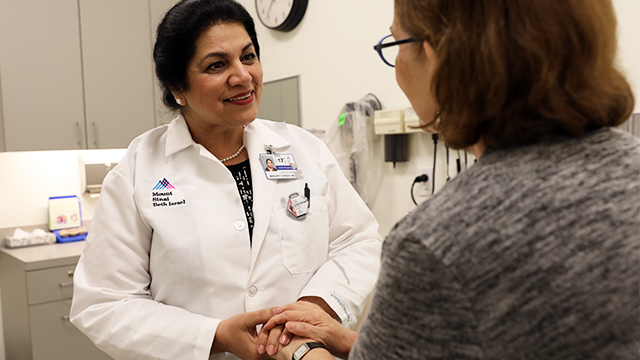 The Department of Radiation Oncology at The Mount Sinai Hospital offers cutting-edge technology to treat a variety of cancers and other diseases. We have a dedicated team of physicians, nurses, physicists, and therapists who ensure that every aspect of our care is done with the highest quality and with concern for the wellbeing of the entire patient and family. We offer some of the latest techniques in radiation therapy that allows us to pinpoint cancers while minimizing radiation dose to normal organs. Our physicians work side-by-side in Mount Sinai clinics with other cancer specialists, such as surgeons and medical oncologists, to deliver true multi-modality care. We perform innovative research to help us discover ways to improve outcomes and the quality of life for our patients. Our physician training program is one of the best, with some of the country's top young physicians working and learning in our department.
About Radiation Oncology at The Mount Sinai Hospital
The radiation oncologists at The Mount Sinai Hospital are trained in a wide variety of disease site specific subspecialties to better serve our patients. We merge the most advanced technology with some of the most experienced professionals in the field to offer state-of-the-art treatment options. We are meeting the future of cancer care with innovation and confidence in our ability to stand on the forefront of research, education, and compassionate patient support.
During treatment, we strive to make our patients as physically and emotionally comfortable as possible. We understand that the journey back to good health, after receiving a cancer diagnosis, can be difficult, even frightening. That is what motivates us to ensure that our patients are well informed about their disease, their options, and all possible outcomes.
Multidisciplinary Team
Our clinical staff includes a carefully selected team of nurses, medical physicists, dosimetrists, and therapists who all do their part to ensure that every treatment is accurate and safe. We offer consultations with a nutritionist who will provide patients with information and suggestions about their dietary needs during and after treatment. Also, a licensed clinical social worker is available to help counsel patients and caregivers through the inevitable emotions and life changes that accompany cancer treatments.