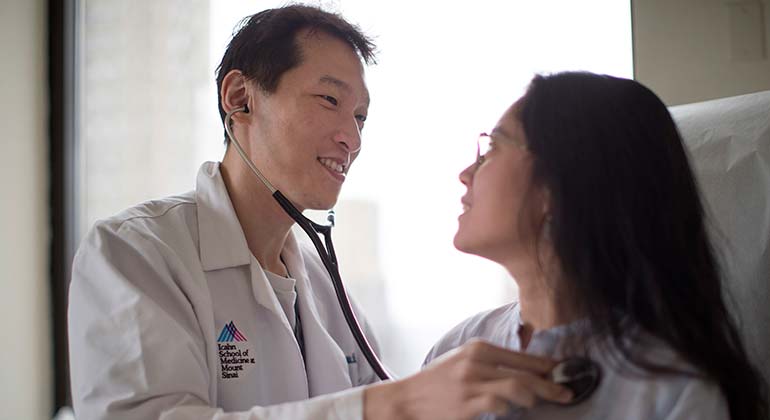 Our pulmonologist, Aloke Chakravarti, MD, will transition to Mount Sinai Doctors-West 14th Street. Effective Saturday, January 1, all patients seeking pulmonology care can continue to see Dr. Chakravarti at this new location. Brooklyn Heights will be recruiting for a new pulmonologist.
Pulmonology Appointments: 212-604-1800
At Mount Sinai Doctors-Brooklyn Heights, our pulmonologist specializes in the diagnosis, treatment, and management of diseases affecting the lungs and respiratory system. Our physicians are also trained in Internal Medicine, Sleep Medicine, and Critical Care Medicine.
Our highly skilled physician and pulmonology team also focus on the diagnosis and treatment of sleep related breathing disorders, including obstructive and central sleep apnea. Our team evaluates adults for respiratory symptoms, such as shortness of breath, cough, wheezing, chest congestion, chest tightness, and snoring.
Conditions We Treat
Our physician provides cohesive and sophisticated care for lung disorders such as:
Asthma
Chronic bronchitis
Chronic obstructive pulmonary disease (COPD)
Emphysema
Interstitial lung diseases
Lung cancer
Lung nodules
Pleural effusions
Pleurisy
Pulmonary embolism
Pulmonary hypertension
Pulmonary fibrosis
Reactive airways dysfunction syndrome (RADS)
Recurrent pneumonia
Sarcoidosis
Our Services
The pulmonology team provides a wide range of services to diagnose, treat, and manage lung diseases and pulmonary conditions. These include, but are not limited to:
Comprehensive pulmonary consultations
Management of chronic respiratory disorders
Preoperative pulmonary evaluations
X-rays and CT scans of the chest