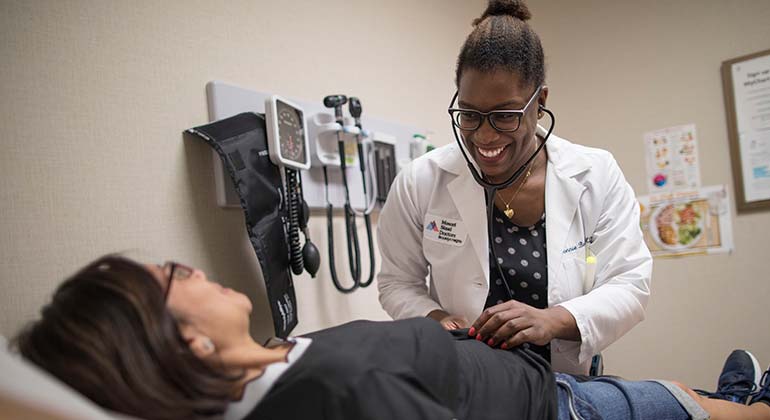 Our Internal Medicine physicians at Mount Sinai Doctors Brooklyn Heights are experts in adult health. These board certified physicians, also called internists, specialize in adult care for men and women 18 years and older.
Every Internal Medicine physician is trained in the essentials of primary care internal medicine, which incorporates an understanding of disease prevention, wellness, substance abuse, mental health, and effective treatment of common problems of the eyes, ears, skin, nervous system, and reproductive organs.
Mount Sinai Doctors Brooklyn Heights Internal Medicine physicians serve as the "medical home" for ongoing personalized care in the patient's lifetime, providing complete primary care, including physical examinations, routine health screenings, and preventative care.
Our advanced electronic medical record system improves patient care and gives physicians all of the important patient information they need in one place. As a result, patient care is quickly coordinated and collaborated between our highly skilled internists and our specialists – all taking place in a state-of-the-art comprehensive office setting.
Our Services
The range of services offered by our Internal Medicine physicians at Mount Sinai Doctors Brooklyn Heights includes:
Yearly physicals
Management of chronic health problems (e.g., COPD, diabetes, hypertension)
Mental health screening and treatment
Cancer screening and preventive services
Routine medical problems
Medical clearance for surgery or sports
Internal Medicine Nurse Practitioner
In addition to our internal medicine physicians we have a dedicated nurse practitioner. A nurse practitioner is a nurse with a graduate degree in advanced practice nursing who is able to provide a broad range of health care services to patients. Our board-certified adult-geriatric primary care nurse practitioner at Mount Sinai Doctors, Anna Oberndorf, MSN, NP, is available to treat patients Monday through Saturday.
Some of the services she offers includes:
Disease prevention
Managing chronic health conditions
Nutrition and health
Sexual-reproductive health
With her years of experience, nurse practitioner Oberndorf is available to provide patients with high quality health care at Mount Sinai Doctors Brooklyn Heights.