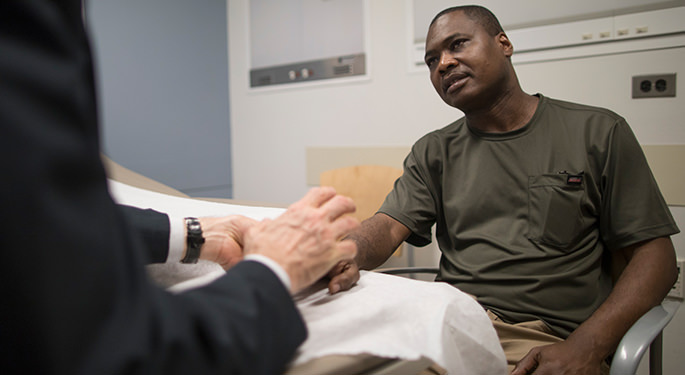 We welcome you to Brooklyn Heights where our team of orthopedic specialists can help you close to home. If you experience a sudden muscular pain or a bone injury, or you are suffering with chronic orthopedic pain that makes movement difficult, we can diagnose and treat you. As an athlete, you may experience repetitive motion injuries, and we can help you with surgery, medications, physical therapy, or a combination depending on your specific injury and your goal to remain active. If you are at the stage of chronic joint paint that requires surgery, we can perform hip and knee replacement procedures and provide follow up physical therapy.
At all times, we consult with you and examine you to make an appropriate diagnosis and treatment plan that is right for you: surgical or nonsurgical.
Conditions We Treat
The injuries and orthopedic conditions we regularly treat, include:
ACL tears
Ankle injuries
Arthritis and tendinitis
Cartilage and ligament injuries
Compression fractures
Elbow injuries and ligament tears
Fractures
Herniated discs
Knee conditions and injuries, including meniscus tears
Myelitis or myelopathy
Osteoarthritis
Runners knee (patella chondromalacia / patella-femoral syndrome)
Sciatica
Scoliosis
Shoulder rotator cuff tears, shoulder dislocations, instability, and labral injuries
Spinal stenosis
Spondylolisthesis
Sports related injuries and overuse injuries
Traumatic injuries and fractures
Services We Provide
Our Mount Sinai orthopedic specialists provide excellent diagnostic services and care with the latest surgical procedures to help you regain motion and eliminate pain:
Onsite Diagnostic Capability
Treatment Procedures
ACL reconstruction
Arthroscopic surgery of the ankle, knee, and shoulder
Cartilage restoration surgery
Elbow ligament reconstruction
Fracture casting and repair surgery
Hip injections and arthroscopy
Joint aspirations and injections
Knee ligament repair or reconstruction, and total or partial knee replacement
Shoulder labral repairs, shoulder stabilization, and rotator cuff repairs
Spine evalutaions
Tendon repairs
We encourage you to make an appointment today to see one of orthopedic specialists in Brooklyn Heights, your direct connection to all Mount Sinai Health System resources.