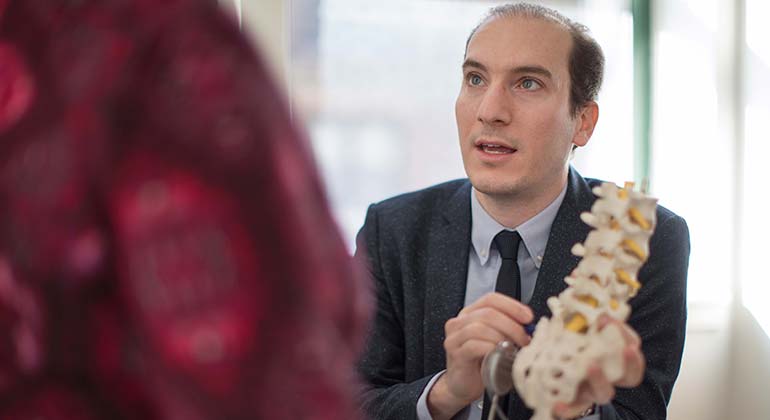 When you have intense or ongoing pain, you want relief. At Mount Sinai, we use a variety of advanced approaches to treat all sorts of pain. We can diagnose your condition and develop an individualized treatment plan. And we can help you right in your Brooklyn Heights neighborhood.
Conditions We Treat
We treat pain that comes from a wide variety of conditions. The disorders we see most often are:
Ankylosing spondylitis: a form of arthritis that affects the spine
Bursitis: pain caused by inflammation in the bursa, which cushion the bones, tendons, and muscles near your joints
Cancer pain syndromes: pain caused by the cancer itself or its treatment
Causalgia: severe pain caused by injury to a nerve
Cervical myelopathy: a degenerative condition caused when the spinal cord becomes squeezed due to normal wear and tear
Chronic pancreatitis: inflamed pancreas
Complex regional pain syndrome: long-term pain that affects your hand, foot, arm, or leg after an injury
Coccydynia: inflammation of the tail bone
Failed back surgery syndrome: pain resulting from an unsuccessful back surgery
Frozen shoulder: pain and stiffness in the shoulder joints
Golf elbow: pain in the tendons of the forearm, also called medial epicondylitis
Herniated disc: when one of the spinal discs pushes into the spinal canal; also called slipped, bulged, or ruptured disc
Multiple sclerosis: disease of the central nervous system that is often disabling
Neck sprain: a tear in the ligaments and muscles in the back of the neck
Occipital neuralgia: a headache with sharp, throbbing pain in the upper part of the neck, back of the head, and behind the ears
Orofacial pain: discomfort in the head and neck
Osteoarthritis: the most common form of arthritis; most often affects the hands, knees, hips, and spine
Phantom limb syndrome: pain that feels like it is coming from a limb that has been removed
Post-laminectomy pain syndrome: pain following back surgery
Post-thoracotomy pain syndrome: pain after surgery in the chest wall
Rib fracture
Sacroiliac joint pain: pain in the hip joint
Sciatica: back pain caused by the nerve that runs down the back of each leg
Shingles: virus that causes a painful rash
Temporomandibular joint disorders (TMJ): pain in the jaw joint
Tennis elbow: injury in the forearm muscles, also called lateral epicondylitis
Trigeminal neuralgia: chronic facial pain
Spinal stenosis: pinched nerve in the spine
Our Services
At Mount Sinai Brooklyn Heights, we use the most advanced techniques to treat your pain. The approaches we must most often are:
Botulinum toxin injections to help stop muscle spasms
Cryotherapy: treatment that uses freezing or near-freezing temperatures
Intrathecal pain pump insertion: a pump placed between the abdominal muscle and skin that carries pain medication to the spine and nerves
Kyphoplasty: a minimally invasive procedure that treats spinal compression
Pulsed radiofrequency ablation procedures: treatment that uses radiofrequencies to rhythmically apply heat
Radiofrequency ablation: uses heat to help with pain
Rehabilitation management
Spinal and epidural anesthesia: numbing injection into the spine
Spinal corticosteroid injection: injection of steroids into the spine
Sports medicine
Why Mount Sinai
At Mount Sinai, we are more than a stand-alone doctor's office. We offer the expertise of seven hospitals and a nationally ranked medical school. We have the advanced facilities, knowledge, and training to give you the best possible diagnosis and treatment. Our goal is to bring you back to your daily life as quickly and easily as possible.