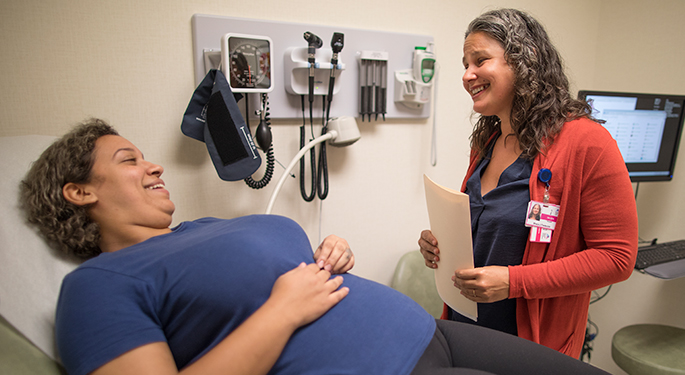 Midwifery
The Mount Sinai Midwives of Brooklyn Heights provide gynecologic and family planning services, preconception care, care during pregnancy, childbirth and the postpartum period. Our goal is to provide the best health care for today's woman in a supportive environment.
Our Services
Our gynecological services include:
Routine physical exams
Pap smears
Breast exams
Contraception management
Reviewing preventative practices and general health strategies.
Our obstetrical services include:
Family planning
Prenatal care
Labor and delivery
Postpartum care
Breastfeeding assistance
Midwives are experts in normal labor and birth. Your midwife will coach you over the phone through the beginning of labor until you arrive at the hospital. At that point, she will stay with you and manage your pregnancy through your delivery. If the midwife needs assistance at any time, The Brooklyn Hospital Center physicians are on call around-the-clock to help.
Meet Our Team
---
Rochelle Lipshutz, CNM
Director

Rochelle Lipshutz attended the State University of New York at Downstate for her midwifery certification. She had been a part of the Beth Israel Ob/Gyn Midwifery Associates since 1989 and has been its director since 1999. As director, she had significantly contributed to developing the BIMC Midwifery Practice into a family-centered, comprehensive and maternal-child health program. That development is now continuing as the director of the Mount Sinai Midwives of Brooklyn Heights.
---

Beth Detroyer, CM
Beth Detroyer is a certified midwife with a bachelor's degree from Johns Hopkins University and a master's degree in midwifery from SUNY Downstate Medical Center. She first became interested in childbirth in 2003 after supporting a friend through labor. Following the births of her own two children, this interest grew into a strong passion for pregnancy, childbirth and breastfeeding and a desire for a career in women's health. After 15 years as a marketing executive in the film & television industries, she left those industries to become a birth doula and continue her education in Midwifery. Beth began her career as a midwife at Mount Sinai West hospital, attending births in both a traditional labor & delivery setting, as well as in the on-site birthing center. She joined the Mount Sinai Midwives of Brooklyn Heights in 2017. Beth has developed a particular interest in working with adolescents – both empowering them to take control of their own health and motivating a dialogue about physiologic birth with the goal of reducing fear. Through this interest, she has developed a class on the history of midwifery and childbirth in America, which she presents to NYC high school girls annually.
---
Shara Frederick, CM
Shara Frederick has been involved in the childbirth community since the birth of her son in 2002 when she created and hosted Tots and Tonic, a happy hour for new moms to meet and talk with baby in tow. In talking to so many women during this period, she realized how much the many caregivers involved in the birthing process shape the experience. This lead her to train as a labor support doula and to support other families through pregnancy, birth and postpartum. In 2006, she began offering postpartum doula services, trained as a childbirth educator through CEA/MNY, and received certification in childbirth education through Lamaze International. She has taught at RealBirth and Inwood House, a maternity residence for pregnant teens. She is also a co-facilitator for Choices in Childbirth's "All About Birth: Workshops for Expecting Parents" and has participated in the NYC Doula Collective as a mentor from its inception. In 2010, she joined the homebirth practice of Community Midwifery as a birth assistant and has traveled the five boroughs watching babies be born safely at home and assisting the parents immediately afterwards. Shara graduated with a master's degree in Midwifery from SUNY Downstate Medical Center in 2016 and has been a member of the Mount Sinai midwifery team since.
---
Michele Handelman, CNM

Michele Handelman is a masters trained certified nurse midwife and family nurse practitioner, graduated from Pace University and Frontier School of Midwifery and Family Nursing. She has been providing care focused on physiologic birth since 1990. She rejoined the Beth Israel family in 2012 after 12 years caring for families in the Bronx; her work continues here as well since our merger with Mount Sinai. Michele has special experience and interests in adolescent health, HIV care and international public health.
---

Caroline Reid, CNM
Caroline Reid is a certified nurse-midwife who is passionate about providing evidence-based, family-centered care. She received her Bachelor of Science in Nursing at The University of North Carolina, before attending Vanderbilt University to complete her midwifery education. As a student, Caroline enjoyed volunteering as a birth doula. She also had the privilege of learning at a wide variety of birth settings, including a birth center, an academic medical center, and a rural community hospital. Caroline is excited to foster women's wellness as the newest member of the Mount Sinai Midwifery of Brooklyn Heights team.