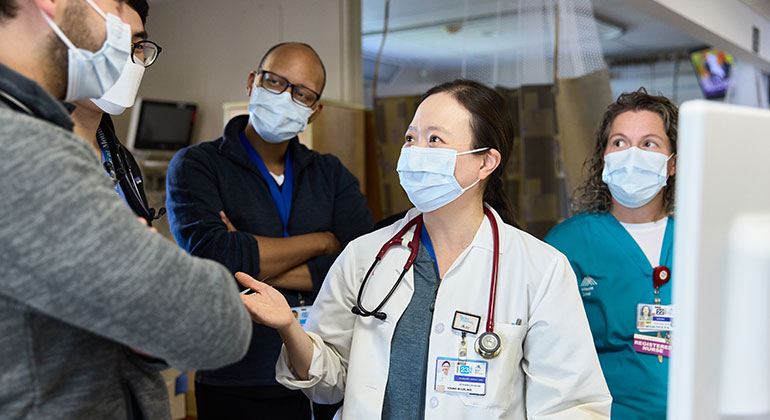 Mount Sinai Beth Israel Intensive Care Unit
Mount Sinai Beth Israel's intensive care unit (ICU) cares for and monitors the hospital's sickest patients. Our ICU has 16 beds. This includes 10 (negative pressure) isolation rooms, which keep patients with infectious illnesses away from others. The ICU team provides 24/7 care to more than 1,000 adult patients each year. Patients come to us from the Emergency Department, inpatient units, and operating rooms.
Conditions We Treat
Most patients in the ICU have one of these conditions:
Acute respiratory failure
Gastrointestinal bleeding
Liver failure
Postoperative shock
Renal failure
Severe sepsis with shock
Shock
Status epilepticus
Stroke post-thrombectomy
Treatments We Offer
The ICU team performs a variety of procedures and treatments including:
Arterial pressure monitoring
Bronchoscopy
Colonoscopy
Continuous renal replacement therapy
End-of-life and palliative care
Endoscopy
Hemodialysis
Mechanical ventilator support (invasive and noninvasive)
Tracheostomy
Vasopressor support
Our Team
The ICU team includes full-time critical care intensivists who covers the ICU day and night, house staff including fellows and residents, critical care physician assistants, critical care nurses, respiratory therapists, physical therapists, nutritionists, chaplains, music therapists, a designated ICU social worker, and a critical care pharmacist. We also work closely with other colleagues throughout the hospital and Health System. These colleagues include medical/surgical subspecialists and palliative care teams. We strive to use our specialized skills to provide comfort, hope, and the best possible care. We also offer language assistance services, both in person and using video and audio devices.
Rules for Visitors
Due to COVID-19, our visitor rules change periodically. Please reach out to us at 718-932-1000 or visit here for current rules.