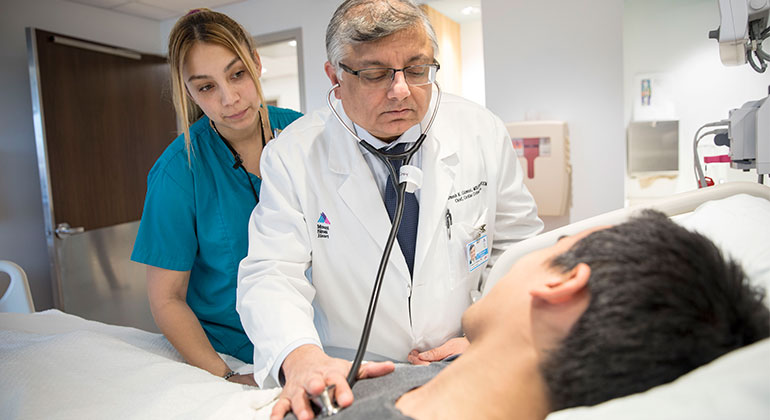 Cardiac Intensive Care Unit (CICU)
Physicians and nurses at Mount Sinai's Cardiac Intensive Care Unit (CICU) are part of a world-renowned team providing the highest quality cardiovascular care and research. We offer the most specialized care and advanced technology available featuring a variety of focused services to hospitalized cardiac patients including echocardiography and ventricular assist devices.
A board-certified cardiac intensive care doctor leads a dedicated team of specialists and nurses who possess advanced training and experience in caring for patients with heart problems. We are dedicated to delivering the best care and outcomes to our patients while tending to the needs of their families and support system.
Our CICU is located in the Klingenstein Clinical Center (KCC) building at 1450 Madison Avenue on New York's Upper East Side. The CICU has many special features including private rooms with a bathroom for each patient and a family section with sofa beds for family members who choose to stay overnight.
We offer a luxurious waiting area equipped with a consulting room so that loved ones can engage in private conversations with our care staff. In addition, we offer a state-of-the-art workspace including access to a conference room.
The innovative design of the CICU allows our team to provide skillful and compassionate care to patients in a healing setting. By receiving the highest quality critical care, our patients have better outcomes and are more likely to return to their previous physical functioning after their CICU and hospital stay. We work closely with rehabilitation therapists, social workers, and palliative care specialists who focus on providing the support patients and their loved ones need to return to normal life at home and in the workplace.