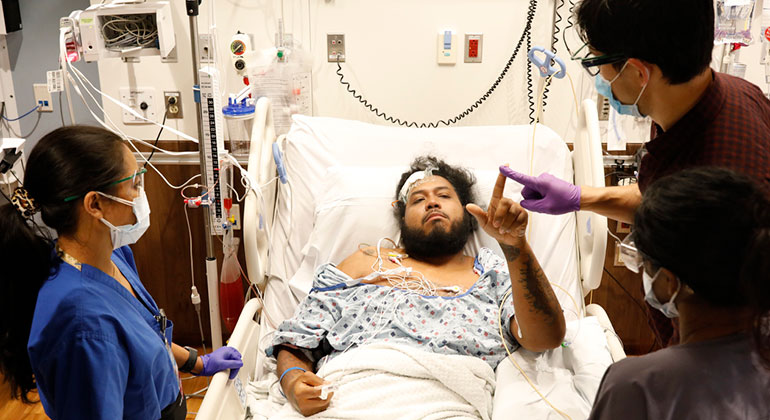 Neurosciences Intensive Care Unit (NSICU)
Located on the ninth floor of the Klingenstein Clinical Center building at The Mount Sinai Hospital, our patient-centered 18 single-patient rooms Neurosciences Intensive Care Unit (NSICU) is staffed by board-certified neuro-intensivists, specialized neurocritical care nurses, advanced care providers and trainees who collaborate closely with a dedicated multidisciplinary team of physical therapists, occupational therapists, speech therapists, social workers, chaplains, nutritionists and case managers. Our neurocritical care team is available 24/7 and works closely with world renowned neurosurgeons, interventional neuroradiologists, stroke neurologists and epileptologists to provide the best care possible for all neurosurgical and neurological emergencies. To learn more about our NSICU visit here.
We specialize in the state of the art, compassionate care of patients who suffer from subarachnoid hemorrhage, acute ischemic stroke, intracerebral hemorrhage, subdural hematomas, coma, tumors of the brain and spine, severe or prolonged seizures, neuro-infections, spinal cord injury among others. In addition to receiving patients from all hospitals that are part of the Mount Sinai Health System, the NSICU also receives patients from hospitals in the greater New York area the tri-state area and beyond. The MSH NSICU utilizes state of the art neuromonitoring techniques, point of care ultrasound, electroencephalography and neuroimaging and provides cutting edge neurocritical care. We also participate avidly in innovative multicenter clinical trials, several investigator initiated studies and multi-institutional collaborations to advance treatment for patients with severe neurological injuries. The MSH NSICU is also home to the Mount Sinai Neurocritical Care Fellowship where physicians trained in neurology, neurosurgery, internal medicine, critical care or emergency medicine receive advanced training in the fundamentals of critical care, management of all neuro-emergencies, clinical research and how to work with interdisciplinary teams. To learn more about our fellowship program please visit here.
NSICU Nursing Care
The NSICU has a long-standing tradition of delivering outstanding, compassionate, neurocritical care. Many of our nurses are certified in critical care, neuroscience and medical-surgery nursing. Our nurses exemplify multidisciplinary teamwork and collaboration in the NSICU that is central to our mission of providing the highest quality of patient centered care. The MSH NSICU nursing team goes above and beyond for all their patients and takes great pride in their work.