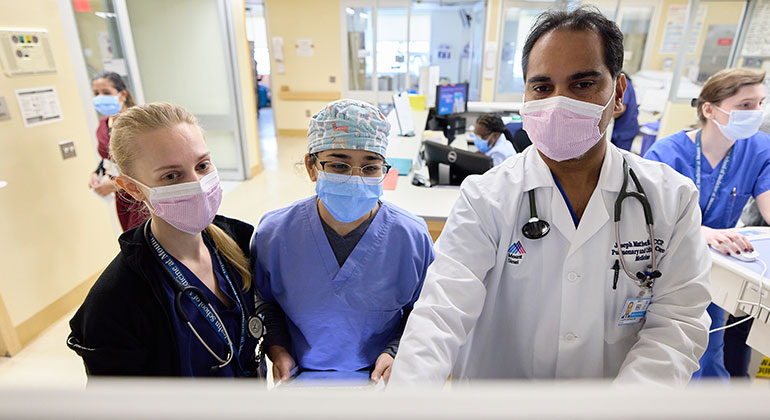 Surgical Intensive Care Unit (SICU)
Critically ill patients in the Surgical Intensive Care Unit (SICU) receive exceptional patient-centered care by intensivists (doctors who specialize in treating intensive care patients) who use a multidisciplinary team approach to medicine. Our intensive care team includes nurses, physician extenders, rehabilitation therapists, nutritionists, social workers, and palliative care specialists.
The Surgical Intensive Care Unit is a 14-bed closed ICU that is staffed by full-time, board-certified Mount Sinai intensivists from the Internal Medicine and Anesthesiology departments at Mount Sinai. The SICU provides a high level of intensive care to critically-ill patients from specialists who are affiliated with General Surgery, Orthopedics, Vascular Surgery, Gynecology-Obstetrics, Transplantation (liver, pancreas, bowel, and kidney), and Urology. The SICU has a long tradition of nursing excellence, with a wide scope of nursing practices.
The SICU team is well trained and equipped to handle a variety of healthcare issues that can affect patient safety and hospital. The entire SICU staff assists in the early planning for patient's clinical needs and goals. They give exemplary daily care to these critically ill patients and put emphasis on interdisciplinary team communication with patient and families.
Research
The SICU research team has contributed to many innovative research projects that have helped define the use of new modalities in critical care, such as the impact of early goal-directed echocardiography in shock patients performed by non-cardiologist intensivists. Our specialists analyze the role of ultrasound in the critically-ill patient, and the team is involved in several multi-center phase II and phase III trials, including treatment modalities and patient outcomes in severe sepsis, and the presence of state of the art technology.