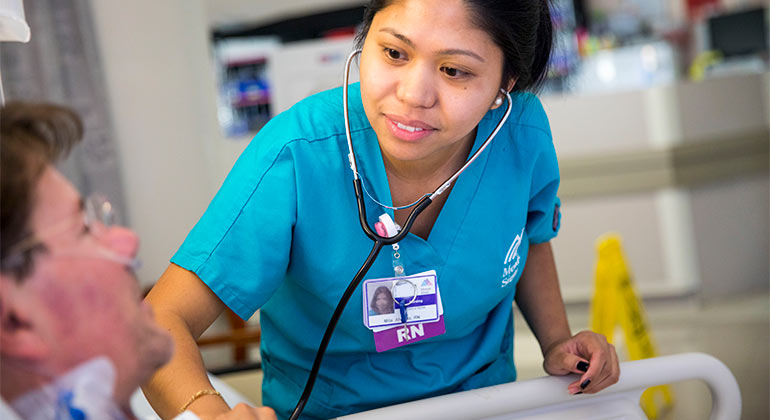 Nurses are the most dedicated advocates for our patients. They serve on the front lines of our intensive and progressive care units, providing comprehensive and compassionate care around the clock to our most seriously ill patients. From coordinating complex medical care across multiple specialties to monitoring medications and operating life-supportive devices, critical care nurses are involved in every aspect of our patients' treatment and recovery.
Often, in intensive and progressive care units, patients are physically unable to speak for themselves. Our nurses serve as a voice for both patients and their loved ones. They communicate and coordinate care with all members of our interdisciplinary team including physicians, surgeons, pharmacists, respiratory and rehabilitation therapists, and social workers. Nurses also educate and support family members about medical treatments, the hospital environment, and goals of care.
In 2014, The Mount Sinai Hospital earned Magnet status from the American Nurses Credentialing Center for the third consecutive year for our team's unwavering dedication to patient care and nursing excellence.
Multidisciplinary Approach to Care
At the Institute for Critical Care Medicine (ICCM), our nurses anticipate the needs of each patient by providing pain management and assisting with rehabilitation. In addition to meeting the patient's physical needs, they focus on providing for the emotional, spiritual, and social needs of patients and their families. They support and guide families in planning and setting goals of care for patients beyond critical care and after hospitalization.
Partners in Recovery
Nurses are an important part of the rehabilitation process. They assist patients in progressive mobility. Our nurses collaborate with physical, occupational, and respiratory therapists to develop an early mobilization plan individualized to the patient's needs. Research has shown that the less time patients are bedridden, the earlier they can leave the ICU and hospital and return to their normal routine.
Specialized Training and Advanced Certifications
Our nurses are educationally prepared with a minimum of a baccalaureate degree in nursing. In addition to critical care nursing knowledge and expertise in his or her specialty, all nurses are certified in advanced cardiac life support. Many nurses have specialized certification in critical care, neuroscience, and medical-surgical nursing and work collaboratively with physicians and support staff to provide exceptional patient care using evidence-based practice throughout our intensive care and progressive care units.