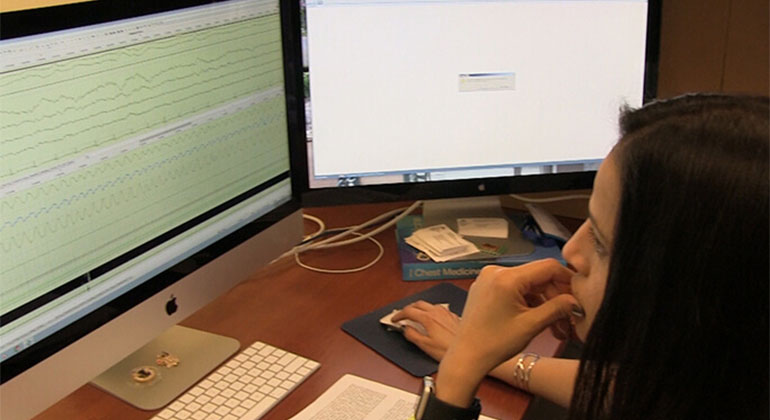 The Mount Sinai - National Jewish Health Respiratory Institute Integrative Sleep Center provides a comprehensive and multidisciplinary approach to treating your sleep disorder. With facilities for overnight sleep studies, our physicians can diagnose and treat your sleep issues so that you can eventually get a good night's sleep. Combined with the cutting-edge research being done at the Mount Sinai Health System and National Jewish Heath in Denver, our doctors can bring to you the very latest treatment regimens designed to work with your individual lifestyle.
Types of Sleep Disorders
We diagnose and treat the following sleep disorders:
Chronic fatigue syndrome
Circadian rhythm disorders
Excessive daytime somnolence (sleepiness)
Insomnia
Irregular sleep/wake cycles
Narcolepsy
Parasomnia
Restless leg syndrome
Sleep apnea
Sleep paralysis
Causes of Sleep Disorders
Thanks to our sleep study rooms, we are often able to determine the causes of your sleep disorder at our office. Not getting enough sleep - sometimes by choice - is the most common cause of excessive sleepiness. Additional causes of sleep disorders include:
Drug or alcohol use
Irregular sleep schedule
Lack of exercise
Medications
Obesity
Symptoms of Sleep Disorders
In order to determine whether you have a sleep disorder, you must first be experiencing symptoms. Some of these symptoms include:
Feelings of irritability or anxiety
Loss of appetite
Naps don't take the edge off your sleepiness
Sleepiness during your waking hours
Trouble waking in the morning
Trouble with thinking or memory
Treatments for Sleep Disorders
Regardless of the type of sleep disorder you have, we are able to offer you a variety of treatment options that will help you get back to a solid sleep schedule.
Our doctors can prescribe over the counter or homeopathic supplements in addition to more invasive methods for the most serious sleep conditions.
Sleeping pills
Melatonin supplements
Doctor prescribed medication
Breathing device or surgery (usually for sleep apnea)
Dental guard (usually for teeth grinding)
We also offer multiple types of sleep disorder therapies including:
Cognitive therapy
Relaxation training
REMEDE® Therapy for Central Sleep Apnea
Stimulus control (SC) therapy
Sleep restriction therapy (SRT)
Why Choose Mount Sinai – National Jewish Health Respiratory Institute
With one of the largest academic sleep groups in the New York region and expert consultation in collaboration with National Jewish Health in Denver, Mount Sinai's Integrative Sleep Center provides a comprehensive assessment of sleep disorders for all age ranges using a multidisciplinary approach. Our sleep providers are board-certified in sleep medicine and have extensive experience treating patients with sleep disorders.