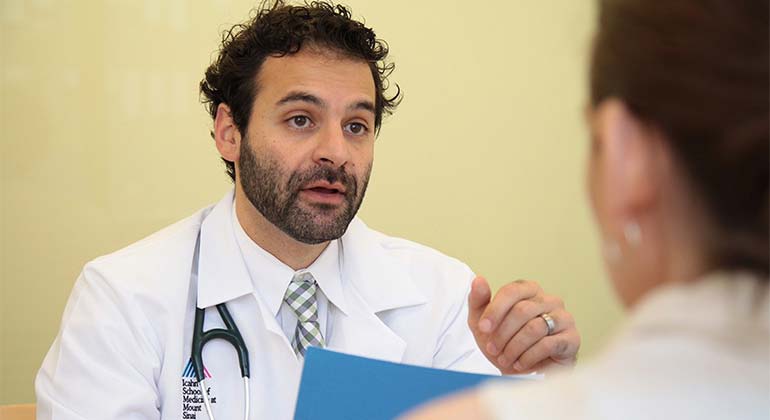 Pulmonary Hypertension Program
The Pulmonary Hypertension Program is a premier, comprehensive care center offered through the Mount Sinai National Jewish Health Respiratory Institute. This unique partnership brings together nationally renowned pulmonologists, cardiologists, rheumatologists, clinical nurse specialists, pharmacists, nutritionists, and social workers in a multidisciplinary program. We offer a full range of diagnostic and therapeutic services to patients with all forms of pulmonary hypertension, including pulmonary arterial hypertension.
Types and Causes of Pulmonary Hypertension
Patients with pulmonary hypertension fall under the category of one of five groups. These groups are:
Group 1 – Pulmonary Arterial Hypertension
Congenital heart disease
Connective Tissue Disease (scleroderma, lupus, etc.)
Drug and toxin Induced
Familial
HIV
Idiopathic
Portal Hypertension
Group 2 – Left Heart Disease
This is often a result of:
Age
Coronary artery disease
Damage to the heart muscle
Diabetes
Heart valve disease
High blood pressure
Obesity
Group 3 – Lung Disease
Pulmonary vessels are tightened in response to other lung diseases, such as:
COPD
Interstitial lung disease
Group 4 – Chronic Thromboembolic Pulmonary Hypertension
PH caused by old, organized blood clots in the lungs that form a physical barrier to blood flow within the pulmonary arteries.
Group 5 – PH Resulting from Unclear Multifactorial Mechanisms
These diseases include:
Blood disease (sickle cell anemia, chronic hemolytic anemia, etc.)
History of spleen removal
Kidney disease
Metabolic disease (Gaucher disease, thyroid disease)
Sarcoidosis
Treatments for Pulmonary Hypertension
We offer multiple treatment options for all forms of pulmonary hypertension. Medications such as pills, inhalers, and infusions developed specifically for the treatment of PH to dilate, and reduce the inappropriate growth of cells in the pulmonary arteries. These therapies ultimately allow the heart to function more efficiently.
Why Mount Sinai – National Jewish Health Respiratory Institute
The Mount Sinai – National Jewish Health Respiratory Institutebringsa multidisciplinary and patient-centered approach to the management of pulmonary hypertension. We ensure that patients fully understand the nature of their condition and its treatment.
Our program offers and has extensive experience using all FDA-approved medications to treat pulmonary hypertension, including oral, inhaled, subcutaneous, and intravenous medications.As a patient, you can be assured that you'll have access to the latest treatments and leading experts from every discipline. Feel confident that you have an exceptional team, committed to your care.