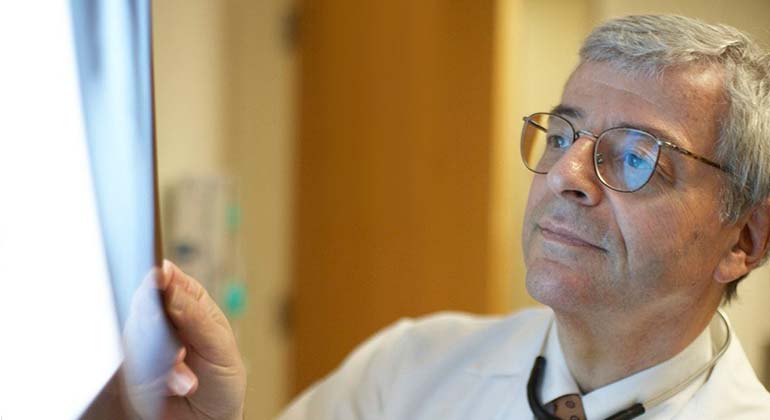 The Chronic Obstructive Pulmonary Disease (COPD) Program is dedicated to providing the full range of diagnostic and management services for COPD, a disease affecting more than 24 million Americans. COPD is under-diagnosed and misdiagnosed; our diagnostic approach focuses on confirming or excluding COPD by simple, easy to perform, lung function testing. If a patient does not have COPD other respiratory conditions will be considered including non-lung causes of the patients' symptoms.
Types of COPD
Two types of COPD have been described: chronic bronchitis and emphysema. Chronic bronchitis causes a long-term cough with mucus. Emphysema involves damage to lungs over time. Most COPD is caused by smoking and smoking cessation improves cough and sputum production in most COPD patients. The damage to the lungs from emphysema is irreversible. But, patients who make every effort to stop smoking have been shown to slow deterioration of lung function and also prolong life.
COPD has been staged as mild, moderate, severe, and very severe based on lung function testing:
Stage 1 (mild) COPD, causes mild symptoms. Some patients have shortness of breath and those who continue to smoke will have cough and mucus production. Many people do not even realize they have a lung problem at this stage and only lung function testing by a physician can make the diagnosis.
Stage 2 (moderate) COPD, is usually associated with shortness of breath and fatigue on exertion, such as when walking up stairs or inclines, or when carrying packages. Smokers will have cough and mucus. Many people first seek medical care at this point because of breathlessness. Lung function testing can easily reveal the diagnosis at this point.
Stage 3 (severe) COPD, brings severe symptoms, with an increase in shortness of breath with or without cough and mucus. Exercise is very difficult at this point. Fatigue increases and quality of life begins to suffer.
Stage 4 (very severe) COPD, is the most severe stage of COPD. It causes a significantly reduced quality of life because of shortness of breath. Trouble breathing greatly limits activity and simple respiratory virus infections (colds) can lead to a severe deterioration that requires emergency care. These episodes can be life-threatening.
Factors that influence the development of COPD
COPD results from a complex interaction between genetic factors and environmental exposures. Although smoking is the primary cause of chronic obstructive pulmonary disease (COPD), long-term exposure to other types of irritants in the work place or home can also play an important role in the development of COPD. Some of these major causes include:
Smoking (cigarettes, pipe, cigar, water pipe)
Familial and hereditary factors
Birth weight, lung growth and development
Environmental exposure to pollution or dust
Chronic asthma
In-door cooking and heating with biomass fuels
Symptoms of COPD
Patients who have COPD may first experience a variety of symptoms that may include any or a combination of the following:
Shortness of breath
Chronic cough
Sputum production
Recurrent respiratory infections
Wheezing and chest tightness
Advanced COPD symptoms include:
Signs of heart failure including ankle swelling
Weight loss
Treatments for COPD
Current treatments for COPD cannot repair the damage to your lungs. However, some treatments may reduce your risk of COPD exacerbations (flare-ups) and improve your breathing. Some of these treatments include:
Short-acting bronchodilators are used as needed to relieve sudden increases of shortness of breath
Long-acting bronchodilator therapy improves shortness of breath and prevents exacerbations
Oxygen therapy used only when the level of oxygen in the blood drops to dangerous levels
Inhaled corticosteroids reduce inflammation and are for patients who have repeated exacerbations or severe symptoms despite bronchodilator therapy
Why Mount Sinai–National Jewish Health Respiratory Institute
National Jewish Health, ranked No. 1 for pulmonology by U.S. News & World Report, has partnered with the Mount Sinai Health System to create the Mount Sinai – National Jewish Health Respiratory Institute. Our chronic obstructive pulmonary disease (COPD) multidisciplinary program offers coordinated care to meet your needs. Our doctors are expert in diagnosing COPD and related conditions, and we develop a personalized treatment plan that takes into account your medical and lifestyle needs, using the latest options available. We offer pulmonary rehabilitation and can help you manage non-respiratory medical conditions that may affect your breathing. Our Lung Cancer Screening Program is incorporated into the COPD services, so we can keep an eye on you. As a patient at Mount Sinai – National Jewish Health Respiratory Institute, you can be assured that you will have access to the latest treatments and leading experts from every discipline.