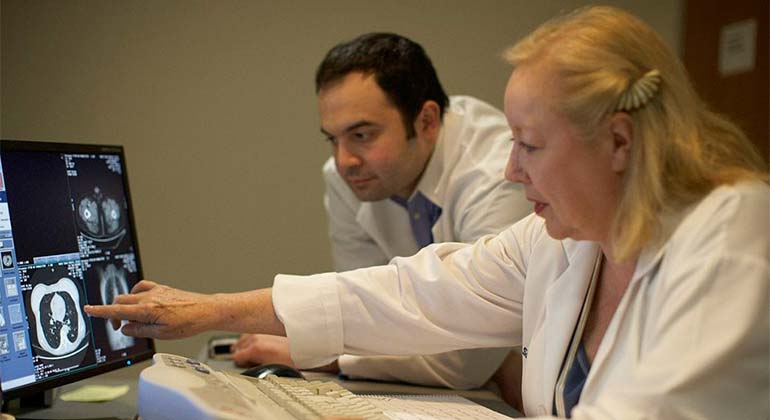 Lung nodules are small growths on the lung. Some people call them "spots on the lung." We often find them when we are performing an imaging test for some other medical question. You could have one lung nodule or several. Lung nodules are usually smaller than three centimeters (1.2 inches). Often, lung nodules are not cancerous (benign) and do not require treatment. But it is always good to check and be certain.
We check lung nodules by performing an imaging test, usually an X-ray, computerized tomography (CT) scan, or positron emissions tomography (PET) scan. If necessary, we may also perform a blood test or even a biopsy. We may keep tabs on the nodule for up to five years because early detection is the best chance for a good outcome.
Your nodule is more likely to be fine if you:
Do not smoke
Are younger than age 40
Have no symptoms
Have calcium in the nodule
Why Mount Sinai
Mount Sinai lung specialists diagnose and treat lung nodules at the Mount Sinai - National Jewish Health Respiratory Institute. We work closely with thoracic surgeons, radiologists, medical oncologists, radiation oncologists, and pathologists to provide the very best care. The Respiratory Institute offers the best and latest comprehensive treatments for lung nodules and all types of conditions that affect your lungs.