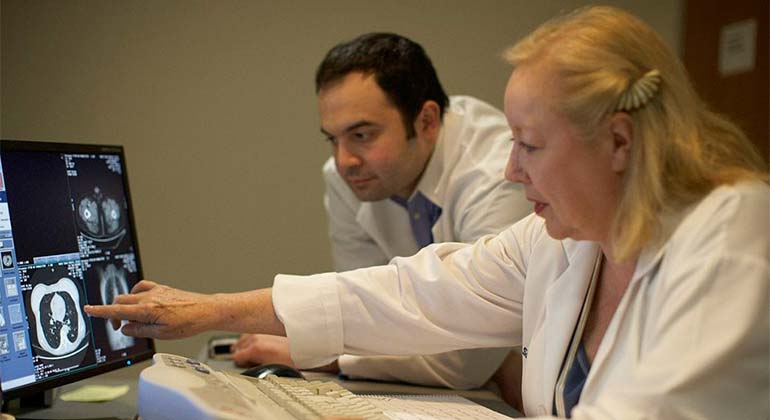 Lung (pulmonary) nodules are small growths on the lung. Some people call them "spots on the lung." We often find them when we are performing an imaging test for some other medical question. You could have one lung nodule or several. Lung nodules are usually smaller than three centimeters (1.2 inches). While the majority of lung nodules are not cancerous (benign) and do not require treatment, pulmonary nodules can be cancerous (malignant) so it's always important to check and be certain.
The lung specialists at the Mount Sinai ̶ National Jewish Health Respiratory Institute offer the latest diagnostics to ensure that you receive the best care for your specific condition. This unique partnership brings together nationally renowned pulmonary experts from every discipline.
To diagnose your specific condition, we check lung nodules by performing an imaging test, usually an X-ray, computerized tomography (CT) scan, or positron emissions tomography (PET) scan. If necessary, we may also perform a blood test or even a biopsy. We may keep tabs on the nodule for up to five years because early detection is the best chance for a good outcome.
Causes of Lung Nodules
There are multiple causes of lung nodules. These causes may include:
Granulomas
Infections: TB, Pneumonia
Benign tumors
AV malformations
Metastases
Primary lung cancers
Symptoms of Lung Nodules
Due to lung nodules, you may experience a variety of symptoms. These symptoms include, but are not limited to:
Back pain
Chest pain
Coughing up blood
Fever/pneumonia
Shortness of breath
Weight loss
Diagnostic Techniques for Lung Nodules
While many lung nodules only require follow-up CT scans to be certain they are not malignant, the diagnosis of certain lung nodules may involve some type of biopsy. Most patients receive one of two general types of biopsy, either a needle biopsy by a radiologist while lying in a CT scanner for guidance, or by bronchoscopy. Bronchoscopies are performed by either pulmonologists or thoracic surgeons, and involve insertion of a small flexible tube into the airway under sedation. Bronchoscopic biopsy techniques include:
Electromagnetic Navigation Guided biopsy
Endobronchial ultrasound (EBUS) – transbronchial needle aspiration
Transbronchial forceps biopsy
Treatments for Lung Nodules
If you are diagnosed with a lung nodule, it does not necessarily mean that you have cancer. Benign pulmonary nodules may not require any treatment. If there is an active infection or if there is any inflammatory disease in the body, then we will provide treatment based upon the symptoms that you have.
If your lung nodule is malignant, and/or if the cancer has not metastasized (spread), then surgical removal of the pulmonary nodule may be recommended.
Surgery
At Mount Sinai, we offer multiple surgical options for removing a pulmonary nodule. The two most common forms of surgery are thoracotomy and video-assisted thoracoscopy.
Thoracotomy is an open lung surgery, where a cut is made in the chest to remove pieces of diseased lung tissue. Patients must remain in the hospital for some days after the surgery. There is a low mortality risk with this procedure and a mini-thoracotomy, which is less invasive, can also be performed. Your doctor can explain to you which thoracotomy is best-suited for your condition.
Video-assisted thoracoscopy is a procedure where a thoracoscope (a flexible tube with a miniature camera at its end) is used. The thoracoscope is inserted via a small incision in the chest. With the help of the camera, the surgeon can see an image of the pulmonary nodule on a screen. This procedure requires a smaller cut and there is a shorter recovery time compared to a thoracotomy.
Why Choose Mount Sinai – National Jewish Health Respiratory Institute
The lung specialists at the Mount Sinai - National Jewish Health Respiratory Institute diagnose and treat the wide variety of lung nodules. You'll have a team of nationally renowned experts providing a personalized program of treatment. We work closely with thoracic surgeons, radiologists, medical oncologists, radiation oncologists, and pathologists to provide the very best care. The Respiratory Institute offers the best and newest comprehensive treatments for lung nodules and all types of conditions that affect your lungs.
As a patient, you can feel confident that you have an exceptional group of professionals, committed to your care.