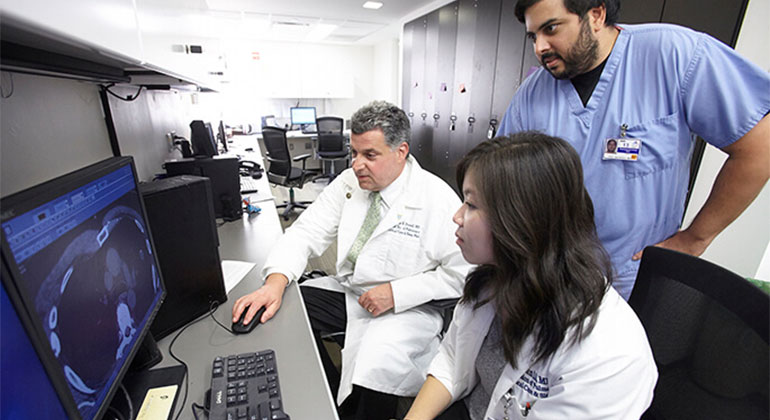 The Mount Sinai Health lung cancer specialists diagnose, treat, and manage all stages of lung cancer. We can also help with prevention and are highly skilled and experienced with other tumors of the chest or thoracic area. We offer advanced and non-surgical procedures. Our doctors work together to provide individualized treatment that best meets your needs.
We work closely with National Jewish Health to bring you the care you need. Our team approach brings together pulmonologists and other specialists for diagnosis and treatment. Our experts include cardiologists; allergists; gastroenterologists; rheumatologists; ear, nose, and throat specialists; and thoracic surgeons.
We are also involved with groundbreaking research toward developing newer and better diagnostic and treatment options. For instance, our doctors have shown that annual CT scans can find up to 85 percent of lung cancers early on, when they are most treatable. We are also involved with clinical trials, which can make the latest medical advances available to you.
Our Lung Screening Program diagnoses the condition as early as possible, for the best possible outcome. We screen former and current smokers as well as other people who are at an increased risk for lung cancer. Our collaborations give you a seamless transition to high-quality care, should it become necessary.
Learn more about Lung Cancer Treatments
Learn more about the Lung Screening Program