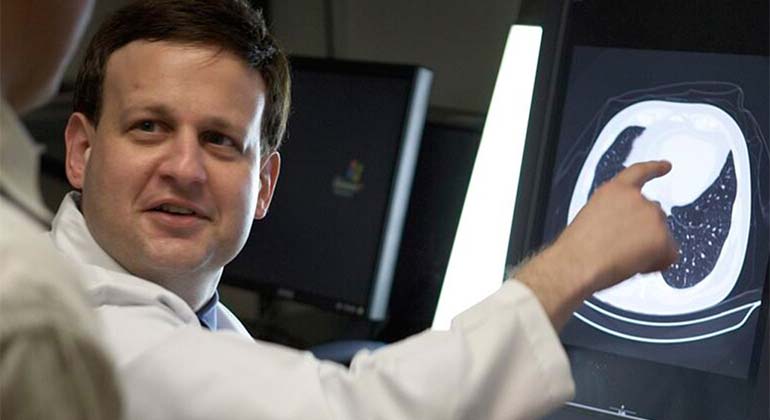 Sarcoidosis is a challenging disease in which patients can struggle for years with ineffective treatments and unanswered questions. That's why Mount Sinai has brought a team of experts together to form an unparalleled sarcoidosis service that combines all the medical skills and resources patients need to manage every aspect of this condition. Since its establishment by Louis Siltzbach, MD, in 1948, our sarcoidosis service has grown to become the largest in the world, with more than 18,000 patients enrolled to date, and approximately 40 more coming to us each week. Because sarcoidosis is a multi-organ disease, we offer expertise in all aspects of the condition with the help of multidisciplinary teams that include cardiologists, dermatologists, neurologists, nephrologists, pathologists, ophthalmologists, and other specialists working together to provide the most comprehensive care possible.
Because every sarcoidosis case is different, our physicians personalize the most effective treatment plan for each patient. Approximately 3,000 sarcoidosis patients actively visit Mount Sinai, and depending on the type and severity of each individual case, we strive to reverse the disease's progression, manage symptoms, or provide the tools needed to best cope with the disorder. Through unique diagnostic tests, advanced treatments, and a multidisciplinary approach, we give our patients the resources, support, and care they need to achieve the best possible quality of life.
Providing Advanced Sarcoidosis Care
Because our Sarcoidosis Program sees a uniquely high volume of patients with the most complex cases, we've developed a rare level of experience and skill in diagnosing and treating the most challenging forms of this disease.
We are the only medical center in the United States offering the Kveim-Siltzbach skin test, a noninvasive diagnostic test for sarcoidosis that our specialists are skilled in administering and interpreting. Our physicians are also experienced in administering immunomodulatory medication therapies (alternatives to Prednisone) as well as evaluating patients for definitive treatments, such as organ transplantation.
Searching for New Treatments
The care we provide is enhanced by the fact that Mount Sinai is an NIH Center of Excellence for research in sarcoidosis. Through research and clinical trials, our Program is investigating new treatments for sarcoidosis. We are also exploring the biology of the disease in order to advance our understanding of how the condition develops.
Hosting a Top Sarcoidosis Support Group
Our Sarcoidosis Program is pleased to offer patients and their loved ones additional care and guidance through our active Support Group. Regular meetings allow patients to ask questions, learn about new diagnoses and therapies, and meet the members of our multidisciplinary staff who participate in their care.
Through our Support Group, advanced diagnostics, research, treatments, and the expertise of our multidisciplinary team, the Sarcoidosis Program strives to give patients the answers, therapies, and tools they need to manage this disease as successfully as possible.