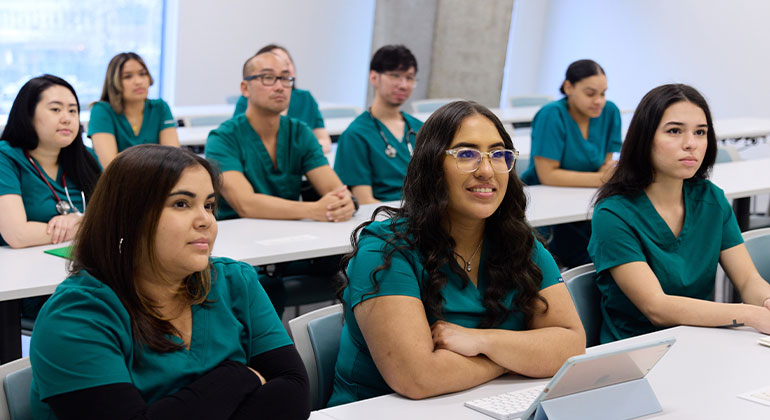 The Mount Sinai Phillips School of Nursing has several programs designed to help you on your career path. Whether you are a working nurse seeking your BSN, looking for advanced training—or a someone who feels called to make a career change to nursing, Phillips School of Nursing can help you take the next step.
Accelerated BSN Program (ABSN)
The Accelerated Bachelor of Science in Nursing Program (ABSN) is open to prospective students with a bachelor's degree in another field. This 15-month program is completed in four semesters and prepares graduates to take the National Council Licensure Examination for Registered Nurses (NCLEX-RN) to obtain licensure. Graduates are well-prepared to pursue master's-level education in nursing. Student complete hands-on clinical training at sites throughout the Mount Sinai Health System, an integrated health care system providing exceptional medical care to our local and global communities. Learn more about the ABSN Program
Upward Mobility Program (RN-BSN)
The Upward Mobility Program is an innovative path for Associate Degree and Diploma Nurses to gain their BSN while working. Students are employed by the Mount Sinai Health System and have their tuition completely paid for (a portion of the tuition will be subject to taxes), in exchange for a commitment to work for Mount Sinai for two years post-graduation.
This unique program is open to ADN-prepared and diploma nurses currently employed by Mount Sinai, as well as those seeking employment. Applicants may take open positions anywhere within Mount Sinai's network of eight hospitals in the New York area. The curriculum takes four semesters to complete—and 20 percent of your time will be devoted to study. Didactics will be conducted virtually, and clinical rotations and labs will be held at various hospitals throughout the Health System. Learn more about the Upward Mobility Program.
The Mount Sinai Phillips School of Nursing Perioperative
Based on the standards of the Association of periOperative Registered Nurses' (AORN) Peri-operative Program, the course includes online and didactic coursework with hands-on practice in the Skills Lab and 50 hours of clinical observation. Earn the AORN certificate and 41.7 contact hours for Operating Room or 43.3 contact hours for the Ambulatory track. The course will be held on Saturdays from May 6 to June 24, 2023, 9-5. Learn more about Perioperative Nursing.
Wound Treatment Certificate Program
This course responds to the ever-growing demand for wound care services in all health care settings. The 12-week Certificate Program is designed to provide the non-specialty nurse with the ability to provide optimal care for the patient with chronic or acute wounds under the direction of the WOC specialty nurse, APRN WOC nurse, or physician. Learn more about the Wound Treatment Certificate Program.
Center for Continuing Education
Located in a state-of-the-art facility, the Center for Continuing Education provides exceptional advanced training and certifications for registered nurses and programs for individuals interested in pursuing careers in allied health.
For more information email Kurt Villcheck at kurt.villcheck@mountsinai.org or call 646-396-4441.
Learn more about our Center for Continuing Education