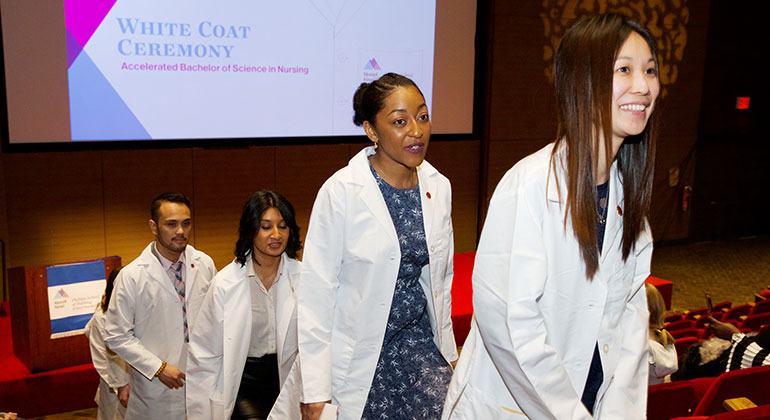 Our Commitment to Diversity
Diversity is one of the core values of the Mount Sinai Health System. And at the Mount Sinai Phillips School of Nursing, we are proud to say that the broad spectrum of our students is one of our greatest strengths. In fact, more than 50 percent of our students identify as coming from minority backgrounds.
Mount Sinai Phillips School of Nursing is a leader among nursing schools for diversity. We had the honor of presenting at the 2021 Advanced Nursing Diversity Impact Summit hosted by the American Association of Colleges of Nursing (AACN). School leadership serve on the AACN Diversity Leadership Institute and the AACN Diversity, Equity & Inclusion Leadership Network. The Health Resources and Administration Services has awarded us a generous grant for diversity training.
At Mount Sinai Phillips School of Nursing, we recognize diversity is one of our core strengths—filtering through our admissions process, our curriculum, and our faculty.
A Holistic Approach to Admissions
We have a holistic approach to admissions, which recognizes the value of students who may not have done as well academically but have a powerful commitment and determination to become nurses. Scholarships and stipends are available for students who need them. And through community, we build safety nets for those who have fewer socioeconomic advantages.
We Learn from Each Other's Experiences
Students have the benefit of an extremely varied, diverse experience. The diversity of the teaching staff, the clinical staff, and most importantly, of your fellow students offers a range of cultural experiences, life experiences, and clinical perspectives. This broad spectrum enriches our program and curriculum. Far from being a sterile, classroom experience, the Mount Sinai Phillips School of Nursing experience is enhanced by the depth of our humanity.
We don't shy away from difficult conversations about race, gender, or violence. Our social justice task force builds a community that engages in this type of dialogue, including unconscious bias and stigma. It is vitally important that we, as nurses, understand how these attitudes and biases affect health care. So we integrate these conversations into our curriculum, and we solicit input from the student task force on diversity. We promote an intellectually challenging exchange of ideas—one that is both respectful but different in opinion. Nursing is a big tent—we have room for everybody.