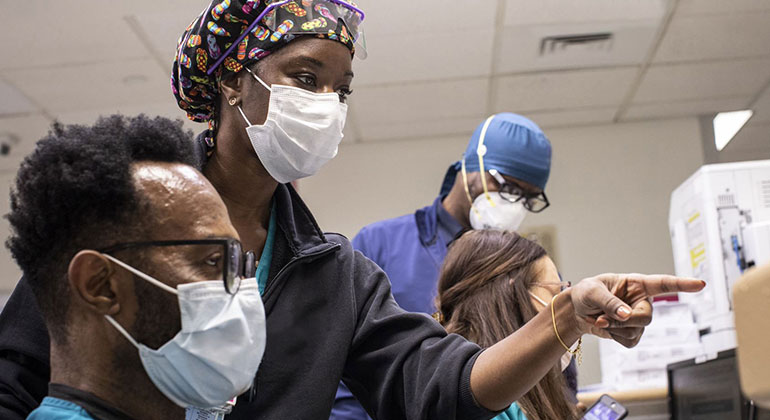 Embedded Within a Top-Tier Health System
Students at the Mount Sinai Phillips School of Nursing have the advantage of learning within the world-renowned Mount Sinai Health System. From Day One, you're not a visitor—you are part of the institution. In fact, our student orientation is very similar to the employee orientation. By the time you graduate, you will be prepared to hit the ground running because you're familiar with how a health system works. You will have done your clinical rotations in a variety of settings within the Mount Sinai Health System. You understand the clinical documentation system, procedures, protocols—and most importantly, the culture.
Learn From the Best
You will have the opportunity to see health care practiced at the highest level. Mount Sinai is a top-tier health system with eight hospitals and over 600 community clinics. The Mount Sinai Hospital is ranked by U.S. News & World Report as one of the top hospitals in the nation, and 11 of our specialties are ranked nationally.
With the rich kaleidoscope of New York, and the incredible diversity of patients and health conditions, students are exposed to a wider variety of situations than they might elsewhere. Cultural differences, unusual health conditions, and just the unexpected are factors that make New York a fascinating environment in which to learn. In addition, many patients are referred to Mount Sinai for specialized treatment. For instance, Mount Sinai is a Center of Excellence for pediatric metabolic disorders. Students gain experience on conditions that they might not experience in a general pediatric rotation elsewhere.
Build Relationships for the Future
Mount Sinai Phillips School of Nursing students have the distinct advantage in developing professional relationships and affiliations throughout the Health System. Throughout their clinical rotations, they have the opportunity to decide on a career path and find mentors along the way. As a result, our students land clinical placements of their choice in specialties such as pediatrics and OB/GYN.
The coordination of care, the interdisciplinary approach, and teamwork are exemplary at Mount Sinai. Students have the opportunity to round with medical students from Icahn Mount Sinai. The collaboration is extraordinary—huddle with the med students, participate in simulations together, and learn to value each other as equal colleagues. Students also engage academically and socially with biomedical science students at Icahn Mount Sinai. These cross-disciplinary interactions help our nurses become stronger collaborative colleagues.
A Springboard to Working at Mount Sinai
The majority of our students seek employment within the Mount Sinai Health System, and many of them stay here long-term. Mount Sinai is supportive of nurses in general, and especially supportive of new nurses. As much as you learn in nursing school, you learn an incredible amount in your first year of practice. Knowing the systems and the culture can make the transition to practice smoother.