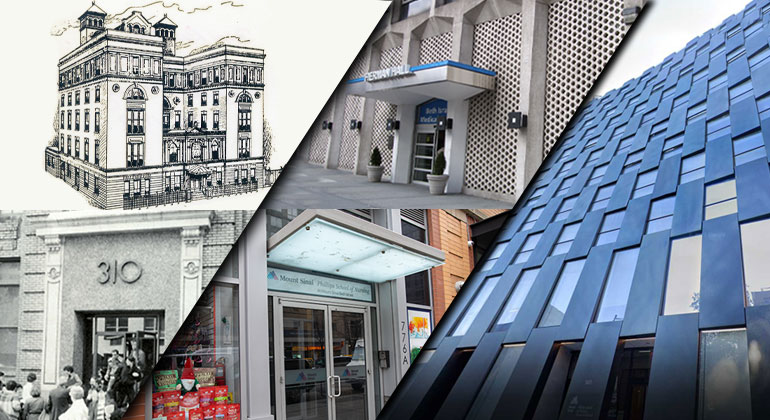 PSON Alumni Association
Greetings to all Alumni and Friends~
To say that we have been through challenging times these past few years is an understatement, yet that is why I am especially proud of our most recent graduates. They showed that they have a true desire to join our profession. They persevered and overcame all the obstacles the pandemic put before them and succeeded. We are honored to welcome our new alumni. In this, our 120th year we have seen many changes such as a new school facility in East Harlem with a state-of-the-art SIM lab. We have a new name; previously we were the Beth Israel School of Nursing and now we are the Mount Sinai Phillips School of Nursing. What has changed? The hospital system to whom we are affiliated. What has remained the same? We continue to honor and memorialize our roots at Beth Israel on the Lower East Side and will continue to have the unwavering support of the Phillips family who founded and continue to support our school and its mission. Remember with change comes progress and our affiliation with Mount Sinai will open many opportunities for our alumni and future graduates.
This is a great time for us to reach out to all alumni and foster the connections between our students and recent graduates. We are fortunate to have so many alumni who have made significant impacts on our profession. Please contact the Alumni Board at PSONAA@mountsinai.org and let us know if you would be willing to share your knowledge and expertise. This can be done in many ways. You can be a mentor to a new nurse, participate in panel discussions with the students or share a story about your career path or a professional achievement with our alumni through the newsletter.
2023 promises to be an exciting year as we welcome some new Board members and take a fresh look at how to best respond to our mission:
Foster, develop, and improve nursing services and nursing education through the coordinated action of nurses with allied professional groups and other citizens to meet the needs of the community.
The Association aims to achieve this by:
Advancing the interest of the students and alumni by providing opportunities to maintain and build on their relationships with the Mount Sinai Hospital Network and the Mount Sinai Phillips School of Nursing.
Providing scholastic achievement and professional development benefits to the Membership and new graduates via Awards and Association events.
Carrying an active program which maintains the highest standard of nursing practice by promoting professional education and advancement via educational programs, networking events, and scholarships.
Encouraging participation and cooperation in professional and community activities.
The Alumni Association is overseen by a Board of Directors. The Board meets several times each year to plan the year's activities and to manage business. Among the initiatives carried out annually by the Association are:
Scholarship support for outstanding active alumni enrolled in BSN, MSN and doctoral programs
Annual alumni awards program at the Fall Luncheon
Financial support for continuing education programs
Sponsorship of educational programs offering Continuing Education Units (CEUs)
Informal networking events to keep in touch with former classmates and friends
Support for class reunions at the annual fall luncheon
Financial aid for nursing service support when ill
For more information about our activities, please visit the PSONAA Website and consider or renew your membership in the Alumni Association by completing the on-line Alumni Membership Application.
With warm regards,
Patricia McKenna RN, BSN
Class of 1989
President, PSON Alumni Association
Officers
Patricia McKenna, President
Alisa Gadon, Vice President
Rose Otero, Immediate Past President
Virginia Klunder, Treasurer
Edwina Thompson, Assistant Treasurer
Rita Williams, Recording Secretary
Directors
Rochelle Bokow Bronson
Danielle Brown
Miriam Fridman
Mary Anne Gallagher
Bernice Rosario
Audrey Schmerzler