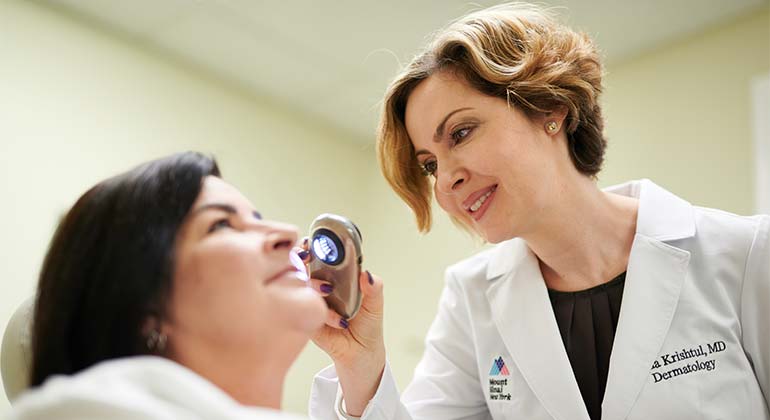 Whether you're looking for cosmetic injectables to achieve a "natural" look or seeking the right acne treatment that will finally clear your skin, Mount Sinai New York is pleased to provide a full range of advanced dermatology services.
With an emphasis on prevention and protection, our state-of-the-art dermatology practice at Mount Sinai New York- Concierge Care offers medical and surgical treatments, the latest cosmetic rejuvenation techniques, and a beautiful medi-spa, featuring medical-grade skin care product lines and professional skin treatments.
We offer expertise in general dermatology, including treatments for acne, eczema, moles (nevi), psoriasis, rashes, rosacea, scars, skin cancers, and more.
We are also skilled in providing the newest cosmetic treatments to achieve a radiant and youthful appearance, including injectables such as Botox®, dermal fillers (Juvederm, Radiesse, and Belotero), and Kybella®. Our Mount Sinai Doctors New York Dermatology location provides a full menu of invigorating cosmetic and medical-grade spa services for the face and neck, including laser hair reduction, chemical peels, customized facials, dermaplaning, and microdermabrasion.
Dr. Anna Krishtul, aesthetician Ashley Lajud and our team at Mount Sinai Doctors New York-Florida look forward to working with you to help you achieve the beautiful, healthy skin you've been dreaming of.
Our Team