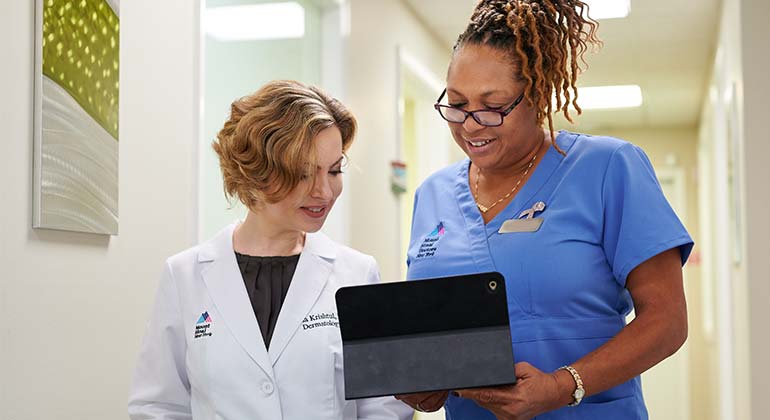 Whether you're worried about a changing mole or wondering how to reverse the signs of aging, it's important to have a dermatologist who knows you and your personal history of skin changes. That's why our specialists take the time to build a relationship with you, in order to catch skin problems early, and help prevent problems from developing in the first place.
Dermatology Conditions We Treat
Our dermatology practices are skilled in delivering the newest treatments for the full range of skin conditions, including acne, aging or sun-damaged skin, eczema, moles (nevi), pigmentation (brown spots), psoriasis, rashes, rosacea, scars, skin cancers, and wrinkles.
Dermatology Services We Offer
When it comes to maintaining healthy skin, our practices believe in stopping problems before they start. We strongly encourage our patients to see us for a full-body skin examination in order to find problems early when treatment works best. In addition, our services include general dermatology to manage the full spectrum of skin concerns, such as biopsy of suspicious lesions, surgical management of skin cancers (including cryosurgery, curettage and desiccation, and excision), and removal of cysts, moles, and skin growths.
At our practices, we believe each of our patients deserves healthy, naturally vibrant skin. Our specialists are committed to an individualized, comprehensive approach to skin care that draws from the best and newest available therapies.